As a chef, I get a lot of questions asking for healthy food and cooking tips. Below you will find 5 healthy food hacks you need to know to make your life in the kitchen easier and fun!
Whenever I ask anyone what kind of knowledge they want me to share as a chef, I always get a combination of the words, fast, easy and healthy in the response.
Not all of us have a ton of time to spend in the kitchen making healthy food and not all of us like cooking at all. And thank goodness for those of you who don't like cooking because I'm able to make a career out of it!
Over the years, I've learned some ways to cut down on time and waste in the kitchen to make the most out of our time cooking and prepping food and I want to start sharing them starting with these!
5 Healthy Food Hacks You Need to Know
Batch Cook Bacon In the Oven
All of you keto fans rejoice because learning how to do this was a game changer! Gone are the days of me cooking 2 pieces of bacon in a pan and splattering grease everywhere for only one meal. Layering bacon on a baking sheet and baking it until desired level of done-ness is amazing to make a weeks worth of breakfasts or to use in things like salads. I also love baking it under a layer of parchment paper so that clean up is a breeze if you don't want to save the fat for future cooking.
Recipes to try: How To Cook Bacon In The Oven, BBQ Bacon Mini Meatloaf
Wash and Dry ALL Your Berries Before You Eat Them
I know you've all probably heard that rinsing your berries right before you eat them is what you "should" do, but I am here to tell you to be a rebel for the right reasons. Once you get your berries, rinse them fully and lay them all out single layer on a paper towel until they dry completely. I usually leave them overnight to make sure they are good to go. Because they are completely dried, the extra moisture that usually comes in the package originally has less of a chance of molding the rest of the bunch which results in berries that last up to TWO WEEKS in the fridge. I promise this works and if you try it, let me know!
Recipes to try: Strawberry Chia Overnight Oats, Strawberry Caprese Salad
Shred Chicken With A Hand Mixer or Bowl Mixer
Have you ever seen people shred chicken breast or even pork perfectly with 2 forks? I have, but only on TV and only for like 3 seconds. THAT'S BECAUSE IT TAKES FOREVER! It's a labor of love to shred meat to get that beautiful "pulled" effect, but I promise there is a better way. Add your cooked chicken breast to a bowl mixer or large bowl and use a mixer to shred the meat. It comes out perfect every time and you'll have meat to make my chicken salad or these other leftover chicken recipes. Also, this works if you get yourself a Rotisserie chicken, pull off the meat and shred away. Don't forget to save the bones for bone broth!
Recipes to try: Sonoma Chicken Salad, Rotisserie Chicken Bone Broth
Instant Pot Basics
I know I keep bringing this up, but a lot of people think the instant pot is really just for soups, stews and full meals. So much of the time I just use it for the basics like cooking rice, spaghetti squash, hard boiling eggs and making chicken breast from frozen so I can shred it using the method above.
Recipes To Try: Instant Pot Basics, Instant Pot Frozen Chicken, Instant Pot Spaghetti Squash
Marinate THEN Freeze Your Meat
Let's say you purchased a ton of chicken breast or beef on sale and you wanted to smother it in The New Primal marinades to inject some awesome flavor but you wont be using it all right away. Portion out the meat you're going to freeze WITH the marinade. The flavor will sink in while it's freezing, but even better it will intensify the flavor when it defrosts. Why? Because when we freeze anything and defrost it, the fibers and proteins break down quite a bit. This is why when you freeze veggies, they aren't as crisp when defrosting. This isn't great for veggies, but it's great for meat because it tenderizes it and lets even more flavor in as the proteins break down. Try it with a bottle of THIS.
Recipes to try: The New Primal Recipes
If you liked this post, check out my 5 Top Kitchen Essentials for busy people that I always have in my kitchen!
What are your best cooking and food tips?
Valerie Skinner is a Whole30 approved personal chef & recipe developer that bridges the gap between healthy eating and busy lives by providing simple healthy meals and recipes for you and your family.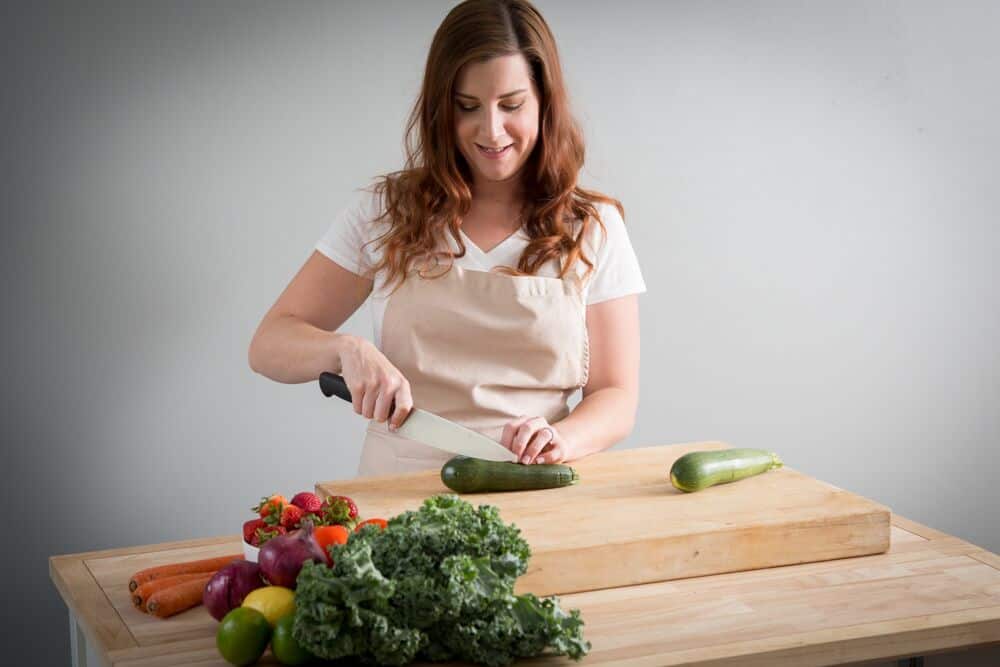 Lets Connect!
Email me: thymeandjoy@gmail.com
Join my community on Facebook
See what I'm pinning on Pinterest