This balsamic bruschetta chicken is light, fresh and perfect for any warm weather occasion. 
If you know anything about me, you know I'd do just about anything to not go outside during the summers in South Carolina. It's sad, but for the most part, I stay indoors in the air conditioning for most of the day if I can help it. The brutal humidity we get thrust upon us for 5+ months of the year makes one large tick against living in this beautiful state for me unfortunately. I realize how strange this sounds coming from someone that was born and raised on the Jersey Shore, lived in Hawaii for the past 5 years and now lives on the south east coast once again.
Still, I enjoy the FLAVORS of summer even if I am consuming them indoors and this balsamic bruschetta chicken makes me feel like I am out on the deck watching the dragonflies when I am really inside by the window praying the alligator that likes to taunt our back yard to go away.
Balsamic bruschetta chicken is a really easy dish because there are minimal ingredients with a big fresh flavor punch that requires little skill to make!
Check Out: Other Chicken Recipes
Balsamic Bruschetta Chicken
Balsamic Bruschetta Chicken
This balsamic bruschetta chicken has a light and fresh flavors perfect for warmer months.
Ingredients
For Chicken:
4 Chicken Breast Cutlets (about 1lb total)
1 Tbsp Olive Oil
Salt/Pepper to taste
For Bruschetta: 
1 1/2 cups tomatoes, diced
1 teaspoon garlic,  minced
1 tablespoon olive oil
1 tbsp balsamic vinegar
1/4 cup chopped fresh basil leaves
salt and pepper to taste
 
Instructions
Preheat a pan to medium high and add olive oil. Salt and pepper chicken on both sides. Cook for 4-5 minutes on each side or until done.
While chicken is cooking, prepare your bruschetta in a bowl by tossing together, olive oil, salt, pepper, tomatoes, balsamic vinegar, garlic and basil and let sit for 10 minutes.
Serve bruschetta over cooked chicken breast.
Notes
Add freshly grated parmesan cheese if not whole30 or paleo
Can be served over zucchini noodles for low carb option
Valerie Skinner is a Whole30 approved personal chef & recipe developer that bridges the gap between healthy eating and busy lives by providing simple healthy meals and recipes for you and your family.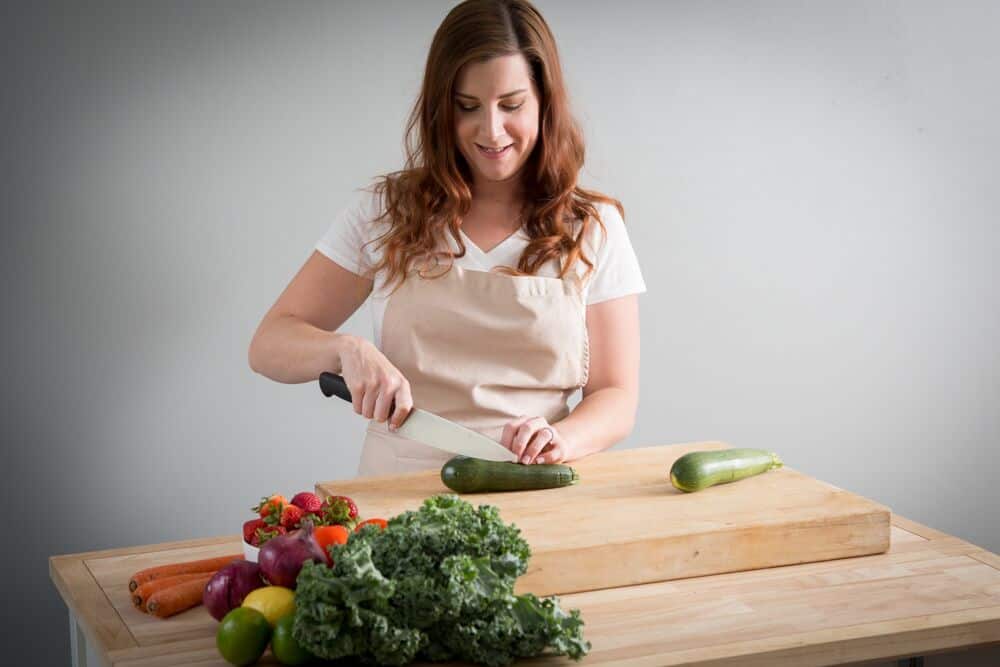 Thyme and JOY is a parnter with the Whole30 Approved program. For more information about the Whole30 reset and Personal chef services in Charleston check out these links:
Follow me on Social Media!