This creamy mashed cauliflower is the perfect holiday side dish for those on a low carb or keto diet. Find out 2 secrets to making your cauliflower mash nice and creamy without any need for milk. 
Cauliflower has been used as a substitute for EVERYTHING!  With the rise of paleo, low carb and keto diets it has made some major waves.
I can't blame it though because it actually works for so many recipes as a substitute for rice, pizza crust and I've even seen people use it to bulk up smoothies.  Since cauliflower is gluten free also, it checks a lot of boxes in the health world.
You may think there is no way that cauliflower can replace mashed potatoes.  For a while I didn't think so either.  Every time I tried to make mashed cauliflower with a potato consistency, I ended up with cauliflower soup and had no idea why.
It took some trial and error to figure out that there are 2 secrets to creamy mashed cauliflower.  Once you know the secrets, you won't have any need for adding additional milk or dairy.  That is pretty magical.
Creamy Mashed Cauliflower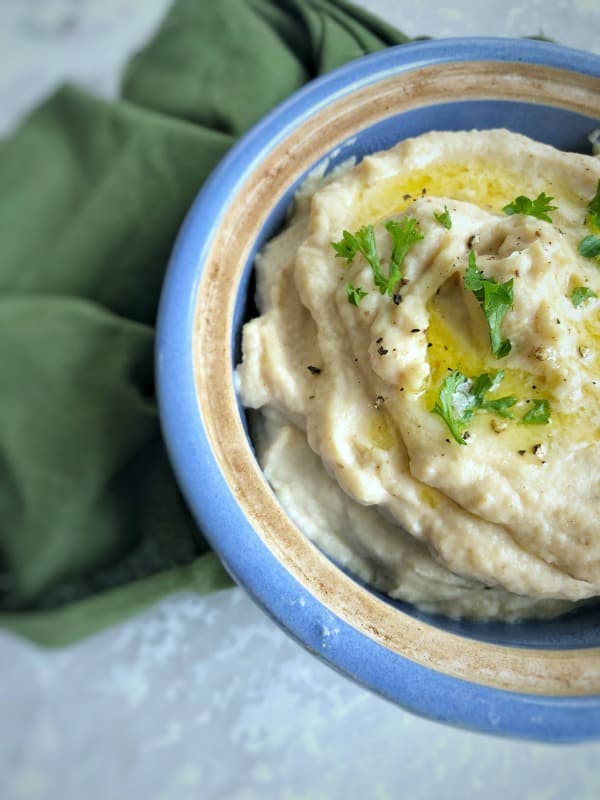 How to Make Mashed Cauliflower Creamy?
 Use raw cauliflower ONLY. This is important because once you freeze a vegetable it changes the structure of the vegetable and the texture is never the same. Using fresh cauliflower for this creamy mashed cauliflower is the best way to go
Roast the cauliflower to draw out a lot of the moisture. This is KEY! Once I realized I could draw out a lot of the moisture by roasting, I was able to blend the cauliflower into a thick mash instead of cauliflower soup. Roasting the cauliflower also gives it a nice depth of flavor.
To me, mashed cauliflower does actually taste pretty similar to mashed potatoes.  I never thought I'd say that but it's true.  The flavor creamy mashed cauliflower can be enhanced by so many other flavors too.
Optional Mashed Cauliflower Add Ins:
Garlic and Herbs
Bacon, Cheddar Cheese and Chives
Curry Powder
Mashed Potatoes (for cauliflower mashed potatoes)
Parmesan Cheese
Pro Tips & Tricks
Use a high speed blender to blend your mash to make it thick and creamy.  This can be mashed with a potato masher, but it may produce a chunky texture.
For this creamy mashed cauliflower recipe, you do not need to add any cream or milk as it is thick enough. If you do decide to add some, add in small increments as to not turn it into a soup.
Butter or ghee is not necessary but makes the flavor really shine.  Add olive oil or avocado oil if you are making the recipe paleo.
Check Out:
Creamy Mashed Cauliflower
This creamy mashed cauliflower is the perfect holiday side dish for those on a low carb or keto diet. Find out 2 secrets to making your cauliflower mash nice and creamy without any need for milk.
Ingredients
1 head Raw Cauliflower (4 cups)
2 tbsp Avocado Oil
2 tbsp Ghee or Butter
1 tbsp Garlic Powder
1 tbsp Dried Parsley
Salt/Pepper to taste
Instructions
Preheat oven to 400.
Rough chop cauliflower into small florets being mindful of trying to make everything the same size.
Toss cauliflower with avocado oil and a pinch of salt.
Spread cauliflower evenly on a baking sheet and roast in oven for about 30-40 minutes flipping halfway through.
Cauliflower should be cooked and starting to look dry but not brown or burnt. Oven times may vary, so keep checking until desired texture is reached.
Using a high speed blender, immersion blender or food processor pulse cauliflower until it is smooth with no lumps. Add spices and ghee and blend until incorporated.
Store in air tight sealed container for up to 5 days
Nutrition Information:
Serving Size:

1 cup
Amount Per Serving:
Calories:

98
Total Fat:

7.4g
Carbohydrates:

5g
Protein:

2.3g
Valerie Skinner is a Whole30 approved personal chef & recipe developer that bridges the gap between healthy eating and busy lives by providing simple healthy meals and recipes for you and your family.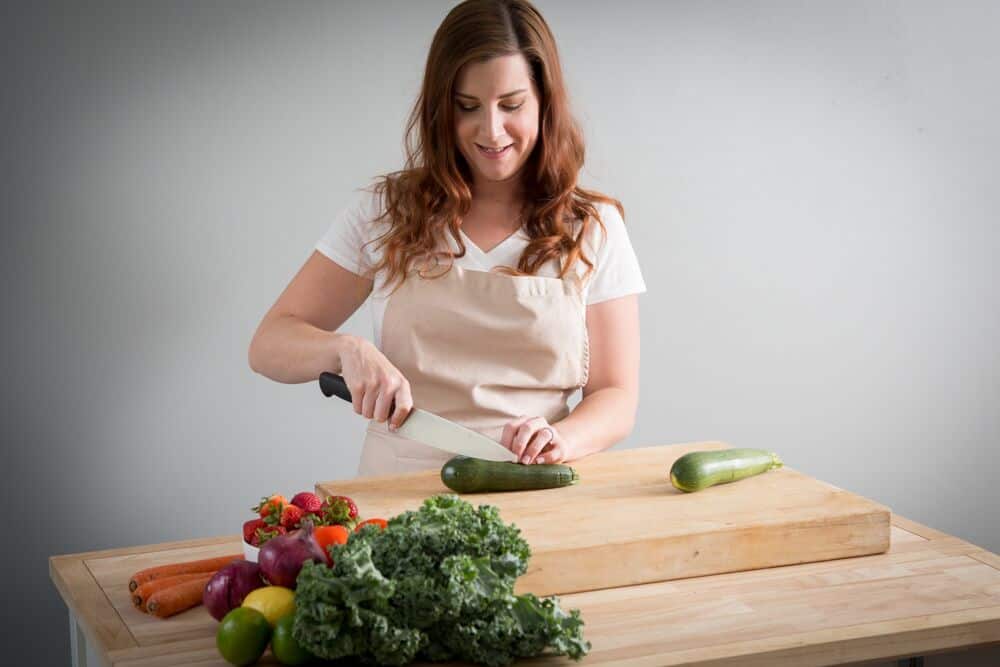 Thyme and JOY is a parnter with the Whole30 Approved program. For more information about the Whole30 reset and Personal chef services in Charleston check out these links:
Follow me on Social Media!