These crispy roasted sweet potatoes are sliced thin and made roasted. A healthy oven baked side dish that looks fancy and has few ingredients.
I almost feel bad writing a recipe for these crispy roasted sweet potatoes because they are SO EASY to make. The trick is really all in making it look pretty by slicing the sweet potatoes thin enough so they can be stacked on each other and create a cool domino layer effect.
This sweet potato side dish is the perfect option to bring to holiday parties and potlucks because it looks like you spent so much time on it.
Plus with only 5 ingredients, it saves money. A good side dish on a budget!
How do I cut sweet potatoes into thin rounds?
You can cut sweet potatoes into thin rounds 2 ways:
By using a

Mandolin

. A

mandolin

will help you slice sweet potatoes all at the same thickness. However, since sweet potatoes are thick and starchy, it may take some effort to slide the sweet potato through. Make sure you are using the safety guard that the mandolin comes with.

By using a very sharp knife. This is my preferred method of cutting sweet potatoes into thin rounds because I can go slower and more precisely.
I cut the sweet potatoes into about ⅛ inch thick rounds. You can cut them to ¼ inch thick but may need to increase the cooking time to account for the extra thickness.
Can I make crispy sweet potatoes vegan?
Absolutely! While I prefer this dish with butter or ghee, you can use a butter substitute to make these crispy sweet potatoes vegan or use avocado oil..
What kinds of herbs can I use in Crispy Sweet Potatoes?
While I used a mixture of rosemary and garlic for this dish, you can absolutely play around with the flavor combinations including:
Tips and Tricks
When choosing your sweet potatoes at the grocery store, make sure each potato is long and round and that all have a similar shape. This will help keep things uniform and make everything bake at the same time.

Slice a thin piece off the bottom of the sweet potato longways to create a flat surface for it to lay on so it doesn't roll around while you are cutting. The slice off can be easily hidden while you are assembling the dish.

This recipe uses an 8×8 pan, but feel free to use one of a bigger size and double the recipe if you'd like to make a bigger side dish.
Crispy Roasted Sweet Potatoes
Check Out:
Crispy Roasted Sweet Potatoes
Total Time:
1 hour
15 minutes
These crispy roasted sweet potatoes are sliced thin and made roasted. A healthy oven baked side dish that looks fancy and has few ingredients.
Ingredients
2 pounds Sweet Potatoes
3 tbsp Butter or Ghee
1 tsp Garlic Powder
2 sprigs Rosemary, chopped
1 tsp Salt
½ tsp Ground Black Pepper
Instructions
Preheat your oven to 400 degrees.

Slice sweet potatoes into ⅛ inch rounds using a very sharp knife or a mandolin.

Melt 3 tbsp butter or ghee (in microwave or on stovetop) and pour 1 tbsp into baking dish coating all sides of the pan or dish you're using.

With remaining butter or ghee, stir in rosemary, salt, pepper and garlic powder and set aside.

Layer sweet potato rounds stacking them on top of each other in the greased pan creating a round or square pattern as seen in the photos.

Once sweet potato rounds are set in the pan, pour or brush the butter herb mixture over the top of the sweet potatoes making sure they are coated evenly.

Cover with foil and place into preheated oven for 45-50 minutes or until potatoes are cooked through.

Once potatoes are cooked through, remove foil and place under the broiler for 5-7 minutes or until desired crispy top consistency is reached. **this varies with each oven.

Let cool 10 minutes before serving hot.
Nutrition Information:
Serving Size:

1/2 cup
Amount Per Serving:
Calories:

188
Total Fat:

6g
Carbohydrates:

31g
Protein:

3g
Valerie Skinner is a Whole30 approved personal chef & recipe developer that bridges the gap between healthy eating and busy lives by providing simple healthy meals and recipes for you and your family.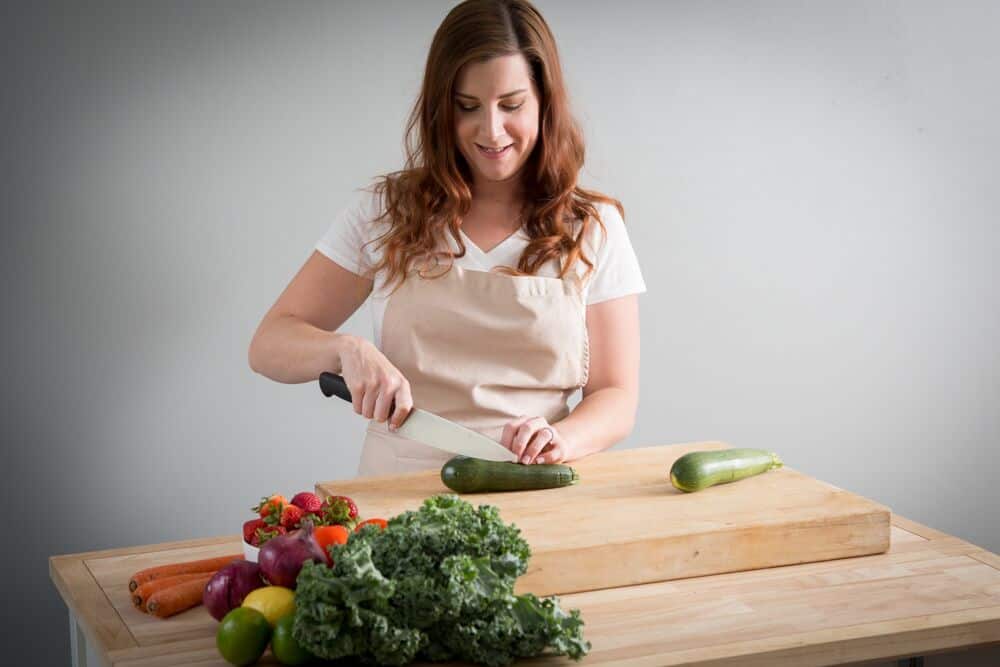 Lets Connect!
Email me: thymeandjoy@gmail.com
Join my community on Facebook
See what I'm pinning on Pinterest