This grocery budget report May 2018  includes money spent on actual groceries and dining out.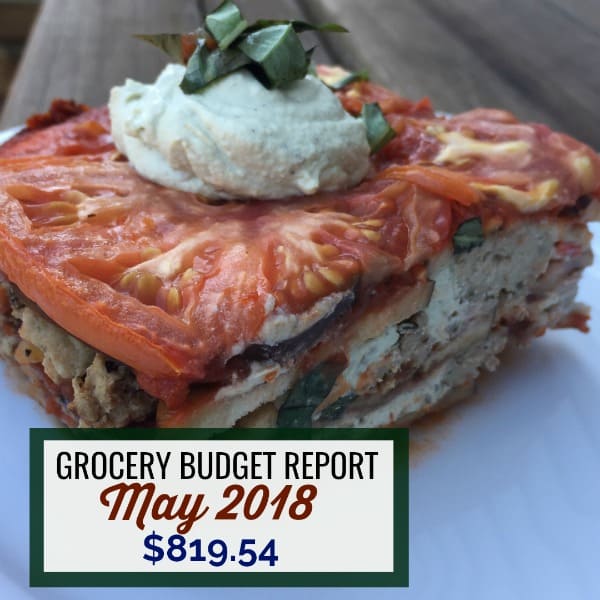 It's about that time for another grocery budget report!  These are more like food spending reports.  I would like to keep our monthly dining and grocery spending $700 or under which seems like a lot for 2 people, but we definitely have gone over every month because of all the "life things" that have gone down and surprise surprise, this month is no exception.
In Aprils post, you may have saw that we spent a SHOCKING $1000 on food and dining out. This is largely because of a heavily discounted trip to Whole Foods I got for being an employee. I really wondered if this month would be dramatically lower because it seemed like I shopped less for food but in all honesty it wasn't as low as I thought it would be.
After I posted my initial report, a lot of people asked me if I could do breakdowns of what we actually spent and on what. Well, a couple months later I can confidently say that I simply don't have the time to break it down this fully. Maybe if I am ever a full time blogger I could!
Check Out . . . 
Grocery Budget Jan- March 2018
Food Blog Side Hustle Income | $18.24
Food Blog Side Hustle Income | $203.13
Grocery Budget Report May 2018
Notable Things That Happened in May:
It honestly felt like I barely shopped for food. This is obviously a lie because the numbers reflect otherwise. We had SO much protein that I've been stocking up on so all I had to pick up was mostly vegetables and snacks for Mike which get expensive even though he still "supplements" with his gas station/subway habit. *grumble*
We didn't go out to eat as often in May.  There was a dramatic decrease in dining out money this month. This was due to the fact that I was making sure I cooked as much as I could and also because when we DID go out to eat, it really wasn't anywhere fancy or expensive. We had our anniversary dinner cruise at the beginning of the month so we may have been fancied out. Also, I did not count the dinner cruise cost into this budget as we took it from our savings.
BJ's was the real MVP this month. I only made one other *real* grocery shopping trip to LIDL this month and the rest was bulk shopping. Since we really only eat meat and vegetables at this point, bulk works for us.
Speaking of simple eating. I totally embraced the sauces this month. My strategy is to make a quick protein and cover it in healthy sauce and pair it with a veggie or salad. That is how I've been able to cook for us after a long day of cooking… keeping it simple.
I unpaused

Butcher

Box. I was ready to cancel this for sure. But I wanted to give it one more try so we will be getting one delivered at the end of the first week of June. I changed it up and made it a 100% beef box. I figured we would get more bang for our buck that way and I could buy cheaper cuts of meat elsewhere. We'll see!
Mike and I worked our ASSES off in May, again but didn't really take any trips or go many places. It sounds sad, huh? We have a week long trip coming up at the end of June to my home town in NJ which is sure to skew our food spending for the month!
Metrics:
Grocery Budget Report May 2018
Grocery Spending: $583.17  (+$9.22 from last month)
Dining Out Spending: $141.55 (-$221.33  from last month)
My Husbands Unfortunate Gas Station & Subway Habit: $94.62 (

+$31.45 from last month)

Total Spent on Food, Dining out and Husband's Addiction: $819.84 (-$180.16 from last month)
Looking at the numbers now, its clear that about $800 a month is what we naturally fall at. The difference from last month to this month is literally the same price as the extra Whole Foods shopping trip I took which makes a lot of sense. Do I think we could "cut back" a little to save some money? Eh, probably?
Right now we can afford to spend this much money on food give or take. And since food is important to us, its probable that if we were going to cut back on something we probably would cut back on things like subscription services like hulu etc. or find another way. This is another reason I want to keep doing these reports, to let others know that spending a more on good quality food isn't always a bad thing, even for only 2 people.
Valerie Skinner is a personal chef & recipe developer that bridges the gap between healthy eating and busy lives by providing simple healthy meals and recipes for you and your family.
Thyme and JOY is a parnter with the Whole30 Approved program. For more information about the Whole30 reset and Personal chef services in charleston check out these links:
Follow me on Social Media!