This kale butternut squash frittata is great for any meal and can be eaten hot, cold or on the go. This is a great way to get in leafy greens and a high protein meal that keeps well in the fridge. 
I know I keep saying this, but I think Frittata's are the best food for anyone who is super busy that wants to meal prep and eat healthy. There are not many full foods that can be eaten for any meal, that can be eaten hot or cold AND can be customized to your flavor preferences. I especially love making a potato crust on the bottom because it makes it hearty and filling.
Check Out:
Kale Butternut Squash Frittata has been a perfect flavor combo. You get some dark bitter greens along with a sweet kick of the squash plus whatever seasonings you'd like to add. Personally, I love going heavy on the garlic powder and sometimes adding a pinch of cayenne.
Since this is a meal prep meal, in this kale butternut squash frittata I've used frozen butternut squash. I started seeing frozen cubed butternut squash in the frozen section at publix and it has been a LIFE SAVER in so many of my recipes.
Can I use frozen butternut squash?
Yes! This is actually preferred in this recipe because cooking raw butternut squash will add another 30-40 minutes to the cook time of this recipe. I find cubed frozen butternut squash at my local grocery store and have seen it in many others. If you can find it not frozen but still cooked, that would be your best bet. Otherwise you can roast them from raw and add them in.
What potatoes do I use for the potato crust?
I always use golden potatoes for my frittatas because they are naturally more buttery than other potatoes in my opinion.  Because of this, they actually cook faster which means you don't have to wait as long to get this frittata cooked fully.
Can I use other vegetables for this recipe?
Absolutely! Frittatas are so versatile in this way and any combination of vegetables or meat you have on hand will work. This is a perfect way to use leftover vegetables you have to use before they go bad.
Fun Frittata Flavor Combinations:
Spinach & Goat Cheese
Bacon & Cheddar
Ham, Pepper & Onion
Feta & Chorizo
Wild Mushrooms & Gruyere 
Onion & Sage
Why do I have to saute the vegetables before adding them to the fritatta?
It is highly recommended that you saute the vegetables before you add them to be baked.  There is a natural high water content in vegetables. When they are cooked they draw out their moisture. It's better for them to release moisture during cooking then baking as that could make the frittata soggy.
Kale Butternut Squash Frittata
Kale Butternut Squash Frittata
This kale butternut squash frittata is great for any meal and can be eaten hot, cold or on the go. This is a great way to get in leafy greens and a high protein meal that keeps well in the fridge. 
Ingredients
12 eggs
1 large  Potato (golden preferred)
4 leaves Kale, stemmed and chopped
2 cups Butternut squash, cooked and cubed**
2 tbsp Avocado Oil, divided
2 tbsp Garlic Powder
salt/pepper to taste
Instructions
Preheat your oven to 375. Grease a 8X8 deep baking pan with avocado or olive oil.
Thinly slice your potato using a mandolin or very sharp knife. Slices should be 1/4-1/8″ thick. Layer the slices overlapping on the bottom of the pan evenly to create the bottom crust. Once layered, put in oven for 25 minutes or until potatoes are 80% cooked through.
In pan, saute chopped kale with cubed butternut squash with 1 tbsp oil until butternut cubes are warmed through and kale is lightly wilted. Most of the cooking will take place while it is being baked.
In a separate bowl, crack 12 eggs and whisk together along with garlic powder, salt, pepper and any other seasonings you'd like to add.
Take potato crust pan out of oven and pour egg mixture right on top. Take vegetable mixture and disperse evenly on top of egg mixture. Egg mixture will go under the crust and in between layers and this is ok!
Bake Frittatta for 25-35 minutes or until middle is firm. Let cool and slice into 6-8 pieces.
Notes
** most grocery stores carry cooked frozen butternut squash cubes in the frozen vegetable section. this can be subbed out for sweet potato
Nutrition Information:
Serving Size:

1 cup
Amount Per Serving:
Calories:

374
Total Fat:

24g
Carbohydrates:

19g
Protein:

20g
Valerie Skinner is a Whole30 approved personal chef & recipe developer that bridges the gap between healthy eating and busy lives by providing simple healthy meals and recipes for you and your family.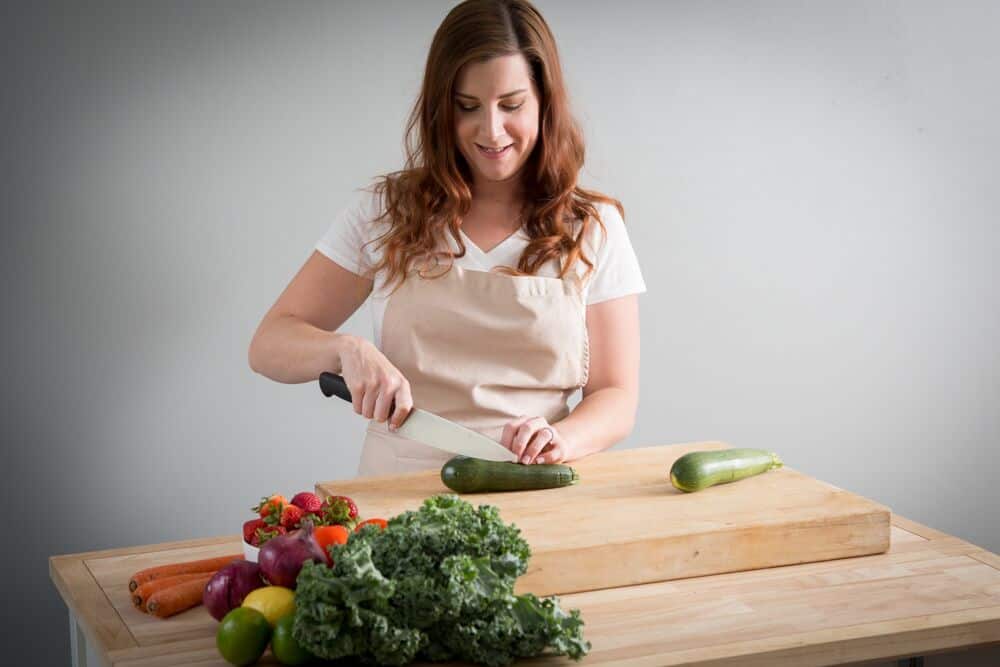 Thyme and JOY is a parnter with the Whole30 Approved program. For more information about the Whole30 reset and Personal chef services in Charleston check out these links:
Follow me on Social Media!