These mini pecan pie tarts are a perfect treat for those who want just a little taste of pecan pie. This recipe is made with gluten free cookie dough and a dairy free date caramel.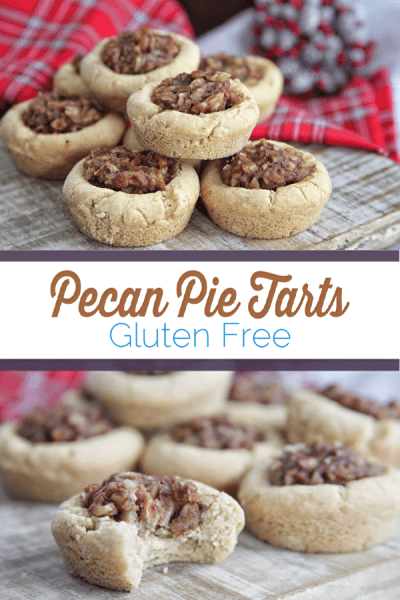 I absolutely love Pecan Pie.  It's one of those desserts that is totally worth waiting for and even though it starts showing up during Thanksgiving, we enjoy it well into Christmas.
Whenever the subject gets brought up though, I mostly shy away from actually pronouncing the word Pecan.  I'm from the east coast where a Pecan is a Pe-CAN and not a Pe-CON. Now that I am fully living in the south, I need to be aware of the local speak but it's hard.
I loved making these mini pecan pie tarts because they give an option to those that want pecan pie but also want to try a plethora of other desserts on holidays.
Mini Pecan Pie Tarts


The base is a simple sugar cookie mix.  I used a gluten free flour blend for these because I actually enjoy gluten free baking and with this recipe you really cannot tell the difference. See notes below about which one to buy for best results.
Traditionally, pecan pie filling is made with corn syrup and sugar. I decided to try something different and make my filling with Date Caramel.  
What is date caramel?
Date caramel is a dairy free and vegan version of caramel that contains just 2 ingredients: dates and coconut milk. I found that making this plus adding some vanilla extract and sea salt, it really captured the flavor of that sticky gooey pumpkin pie filling without too much sweetness.
Click HERE for the Easy Date Caramel Recipe
I'm excited to experiment more with date caramel! Any recipe suggestions?
Can I make this recipe vegan?
In order to make this recipe vegan, make sure you use a vegan butter substitute like Earth Balance.
The eggs in the recipe need to be replaced with a suitable vegan egg replacement.
Does this have to be gluten free?
If you don't need to make this recipe gluten free, feel free to use your favorite sugar cookie recipe as your base.

If you want to make this gluten free, be sure that you are buying a gluten free flour blend that is a 1:1 or cup to cup ratio. This means that every cup of regular flour can be replaced with one cup of the gluten free flour blend.

Xanthan gum is a natural binder that is found a lot in gluten free baking because it adds back that sticky gumminess needed for baked goods. I always buy a blend that has it in it already instead of buying separately. Make sure you are reading your labels!
Can I double the batch?
If you need more than 12 cookies, feel free to double this recipe but leave out ½ cup of sugar making it 1.5 cups for the total doubled recipe.
Check Out:
Mini Pecan Pie Tarts
Mini Pecan Pie Tarts
These mini pecan pie tarts are a perfect treat for those who want just a little taste of pecan pie. This recipe is made with gluten free cookie dough and a dairy free date caramel.
Ingredients
FOR COOKIE BASE
FOR FILLING
Instructions
FOR COOKIE BASE
Preheat oven to 350
Grease your muffin tin.
Using a hand mixer or standalone mixer, beat the butter and sugar together until fluffy and creamed together.
Add the egg and vanilla stir until combined, scraping the sides of the bowl and stirring again briefly.
Add the dry ingredients, stirring just until the dough comes together.
Roll the dough into 1.5-2 inch balls and press into muffin tins gently but evenly until all 12 cups are filled.
Bake for 12 minutes and take out of the oven.
Using a round tablespoon, press a cup shape in the center of each cookie while it's soft to create a space for the filling.

Add the cookies back to the oven for another 5 minutes before taking out and letting them cool.
Once cookies are cooled, remove them from the muffin tin and add 1.5 tbsp pecan pie filling to each.
FOR PECAN PIE FILLING
Chop 1 cup pecans
Stir pecans into ½ cup of date caramel sauce until fully combined.
Nutrition Information:
Amount Per Serving:
Calories:

219
Total Fat:

14g
Carbohydrates:

20g
Protein:

3g
Valerie Skinner is a Whole30 approved personal chef & recipe developer that bridges the gap between healthy eating and busy lives by providing simple healthy meals and recipes for you and your family.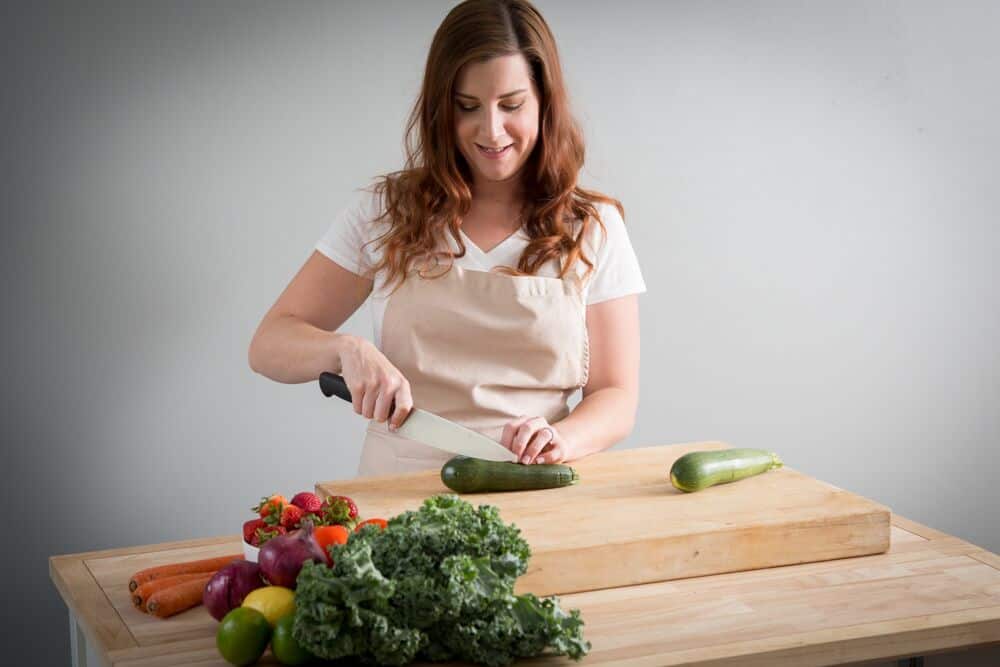 Lets Connect!
Email me: thymeandjoy@gmail.com
Join my community on Facebook
See what I'm pinning on Pinterest