These air fryer jalapeno poppers contain no bread crumbs and are fried in the air fryer and ready in 8-10 minutes with a delicious bacon, cheddar and cream cheese filling.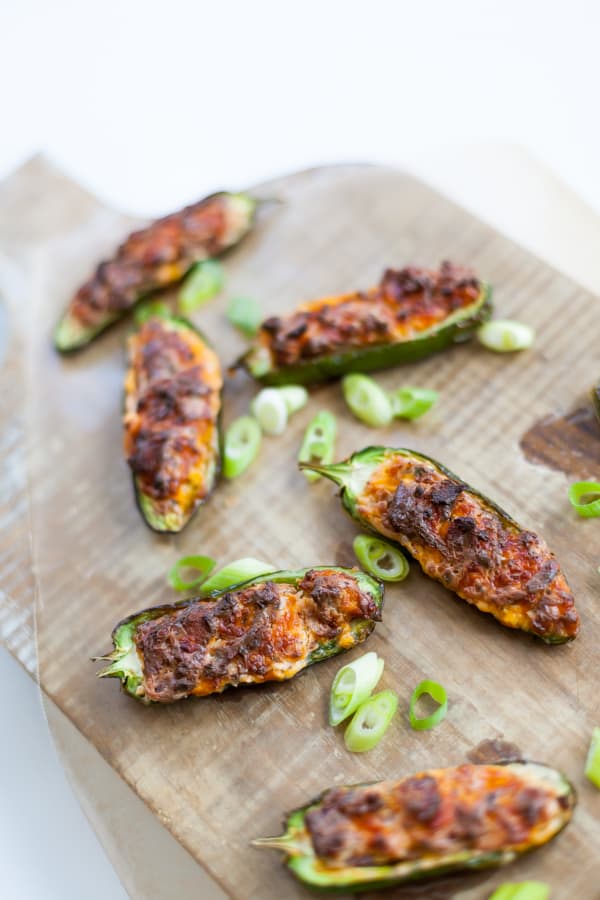 Somewhere along the line, I fell in love with Jalapeno Poppers. I really didn't eat them often though because traditionally they are breaded and deep fried making them REALLY rich.
As great as they tasted, my stomach protested with heartburn and we can't have that.
Luckily, this recipe for air fryer jalapeno poppers happens to be suitable for low carb and keto because it doesn't contain any bread crumbs AND it is air fried instead of deep fried.
Also, there's bacon.
What is a Jalapeno Popper?
While there are so many variations of Jalapeno poppers traditonally, Jalapeño poppers, or jalapeño bites, are jalapeño peppers that have been hollowed out, stuffed with a mixture of cheese, spices, and sometimes ground meat, breaded and deep fried. Wikipedia
How do you make Keto Jalapeno Poppers in the Air Fryer?
For a version that is low carb and air fried, we make a few simple changes for a delicious jalapeno popper that can be made up in 10 minutes or less.
Cut all jalapenos in half lengthwise.
Remove ribs and seeds. OR, leave some seeds in if you like your jalapeno poppers extra spicy.
In a small bowl, thoroughly mix together cream cheese, salt, pepper, chives, shredded cheddar and crumbled cooked bacon.
Spoon the cream cheese and bacon mixture evenly into each jalapeno half.
Grease your air fryer with avocado oil and place each stuffed jalapeno in the basket with the cream cheese stuffing facing up.
Cook at 375 for 8-10 minutes. 10 minutes will get your jalapeno poppers nice and crispy.
Each half will have anywhere from 60-75 calories and anywhere from 2-5 grams of net carbs depending on what type of cheese and bacon you use.
Of course I should mention that my favorite air fryer to use is the Ninja Foodi as it is a pressure cooker and air fryer all in one!
My full review on the appliance I use almost daily HERE.
Check Out:
Air Fryer Jalapeno Poppers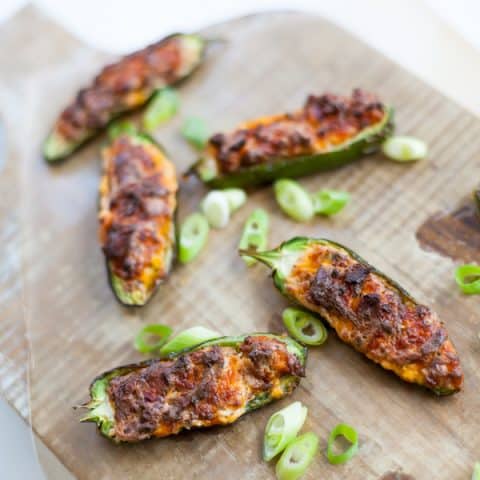 Air Fryer Jalapeno Poppers
These air fryer jalapeno poppers contain no bread crumbs and are fried in the air fryer and ready in 8-10 minutes with a delicious bacon, cheddar and cream cheese filling. 
Ingredients
4 Jalapenos, cut lengthwise
3 oz Cream Cheese
1 oz Shredded Cheddar Cheese
3 Slices Bacon, cooked and crumbled
1/2 tbsp Dried Chives
1 pinch Salt
1 pinch Black Pepper
1/2 tsp Avocado Oil
Instructions
In a medium sized bowl, add softened cream cheese.  Soften by letting it sit out for 1 hour or microwave for 15-20 seconds.
Add in cheddar, crumbled bacon, chives, salt and pepper and mix until fully combined.
Evenly distribute the cream cheese and bacon mixture by spooning into the hollow part of each sliced jalapeno.
Grease your air fryer basket with avocado oil.
Place each stuffed jalapeno half in air fryer basket, stuffing side up.
Air fry at 375 for 8 minutes.  For extra crispy Jalapeno popper increase cooking time to 10 minutes.
Notes
Carbohydrate count for each jalapeno popper half depends on what types of cheese and bacon used.
Cooking time for Jalapeno Poppers can vary by 2-3 minutes depending on how crispy you like your filling to be.
Nutrition Information:
Serving Size:

2 pieces
Amount Per Serving:
Calories:

135
It is the reader's responsibility to determine the value and quality of any recipe or instructions provided for food preparation and to determine the nutritional value, if any, and safety of the preparation instructions.