This baked Denver omelet contains all the classic Denver omelet ingredients like bell pepper, onion and ham. It's oven baked with a golden potato crust on the bottom for a healthy meal for any time.
If you didn't know already, I am obsessed with making anything with eggs. I feel like eggs are so underrated sometimes as a way to eat healthy because they are cheap and can be made into so many meals.
In fact, I like to cook with eggs at least once a week to save money and switch things up.
Who doesn't like breakfast for dinner?
The beauty of baked omelet's or even frittata's is that you can literally add any combination of meat and veggies in them so there are endless combinations and endless ways to use up leftovers in your fridge before they go bad and this baked Denver omelet is no exception!
What is a Denver omelet?
A Denver omelet is also known as a western omelet or southwest omelet. The origin of the name is mixed all over the place. Believe me, I tried to find the answer to this and couldn't really nail one down.
Chances are that somewhere started making them and the name just kind of stuck. Like a cult phenomenon, but with eggs. Maybe one day we will know why, or at least a smart reader of this blog would?
What is in a Denver Omelet?
A Denver omelet has a variation of ingredients, but for the most part you can find a combination of:
Eggs
Bell Pepper
Onion
Ham
Cheddar Cheese
Mushrooms
This particular baked Denver Omelet recipe has a little bit of a twist. It is baked in the oven and has a sliced golden potato crust underneath making it a full meal or omelet and hash browns all in one.
Can I make this Denver Omelet Keto or Whole30?
To make this keto: Omit the potato crust completely and it will be low carb. Feel free to add cheddar cheese!
To make this whole30: make this recipe as is. Cheese has been omitted from this recipe to stay whole30 compliant, but if you can handle dairy and are not on a round, it's a delicious traditional addition.
Check Out:
Baked Denver Omelet
Baked Denver Omelet with Golden Potato Crust
Total Time:
1 hour
15 minutes
This baked Denver omelet contains all the classic Denver omelet ingredients like bell pepper, onion and ham. It's oven baked with a golden potato crust on the bottom for a healthy meal for any time.
Ingredients
12 Eggs
8oz Cooked Ham, diced
2-3 Golden Potatoes (3/4 pound)
1/2 cup Onion, diced
1 cup Green Bell Pepper, diced
2 tbsp Avocado Oil
1 tsp Salt
1/2 tsp Black Pepper
Instructions
Preheat your oven to 375. Grease a 8X8 deep baking pan with 1 tbsp avocado oil.
Thinly slice your potato using a mandolin or very sharp knife. Slices should be 1/4-1/8″ thick. Layer the slices overlapping on the bottom of the pan evenly to create the bottom crust. Once layered, put in oven for 25 minutes or until potatoes are 80% cooked through.
Heat remaining 1tbsp avocado oil in a skillet over medium high heat and saute pepper, onion, and ham in skillet for about 5-7 minutes. Vegetables should be starting to soften but not be fully cooked through.  Most of the cooking will take place while it is being baked.
In a separate bowl, crack 12 eggs and whisk together along with, salt, pepper and any other seasonings you'd like to add.
Take potato crust pan out of oven and pour egg mixture right on top. Take vegetable and ham mixture and disperse evenly on top of egg mixture. Egg mixture will go under the crust and in between layers and this is ok!
Bake Frittatta for 25-35 minutes or until middle is firm. Let cool and slice into 4-6 pieces.
Let cool 10 minutes before cutting and serving.
Nutrition Information:
Serving Size:

1 slice
Amount Per Serving:
Calories:

296
Total Fat:

16g
Carbohydrates:

17g
Protein:

19g
It is the reader's responsibility to determine the value and quality of any recipe or instructions provided for food preparation and to determine the nutritional value, if any, and safety of the preparation instructions.
Valerie Skinner is a Whole30 approved personal chef & recipe developer that bridges the gap between healthy eating and busy lives by providing simple healthy meals and recipes for you and your family.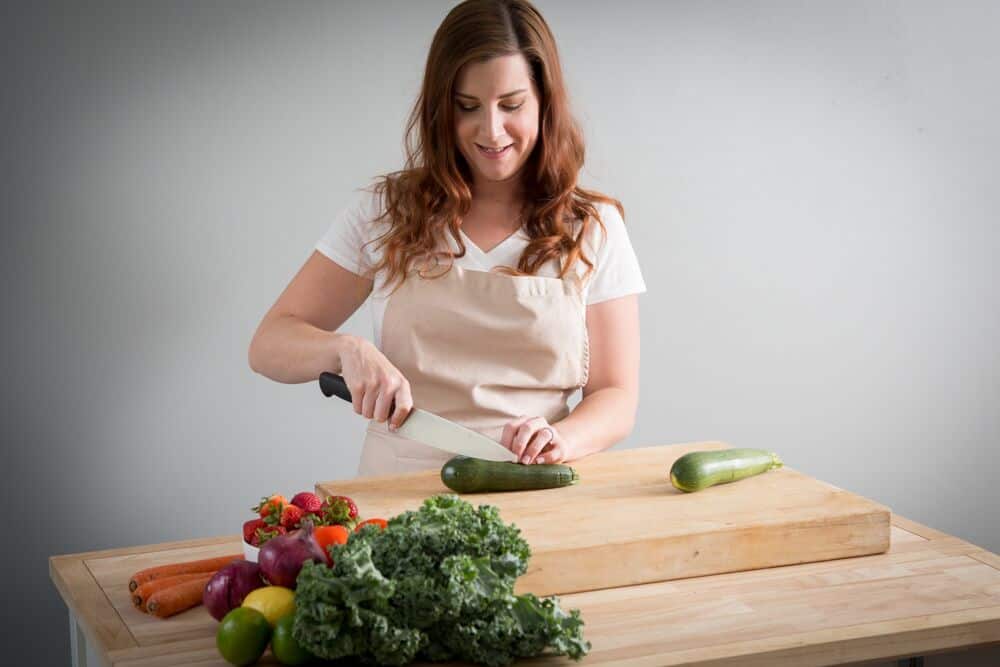 Lets Connect!
Email me: thymeandjoy@gmail.com
Join my community on Facebook
See what I'm pinning on Pinterest