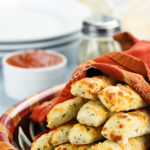 Print Recipe
How To Reheat Breadsticks In The Air Fryer
Learn How To Reheat Breadsticks In The Air Fryer to keep them crispy on the outside and tender on the inside!
6

Breadsticks

leftovers for reheating
1️⃣Preheat your air fryer to 350 degrees for 3-5 minutes.
2️⃣Cut the leftover breadsticks into individual pieces if they are baked together and haven't been cut.
3️⃣Place the breadsticks in the air fryer basket in a single layer.
4️⃣Cook for 4-6 minutes (depending on the size) or until they are hot and crispy. Remove from the air fryer with tongs and serve while hot!