With pan-fried seasoned fish and a whole host of veggies, these Paleo and Whole30 Fish Taco Bowls are a quick and nourishing meal perfect for lunch of busy weeknights!
Hi, everyone! My name's Chelsea and I'm the blogger and photographer over at DoYouEvenPaleo.net. I'm excited to share my first-ever guest recipe here on Valerie's website!
I don't want to spend too much of your time talking about me, so let me sum it all up in a couple brief sentences. I publish new paleo and gluten free recipes every week, focusing on from scratch recipes with max flavor — because nourishing meals shouldn't be bland or boring. In my home, tacos are their own food group. And when I'm not in the kitchen, you can find me working at a local coffee shop or at my local CrossFit box.
Enough about me, though! Let's talk about Fish Taco Bowls.
How to Make an Awesome Taco Bowl
To build an amazing Whole30 taco or burrito bowl, veggies are the name of the game.
Cauliflower rice makes the perfect base. But not just any cauliflower rice. For these Whole30 taco bowls, the best way to jazz up cauliflower rice is with a little lime juice and cilantro. Quick, simple, but big impact on the overall flavor of the meal!
Pico de gallo is a must-have topping, of course! And we'll round it out with purple cabbage, avocado, and a sprinkling of fresh cilantro.
Simple, colorful, and quick. All in all, this meal can be on the table in less than 30 minutes. Gotta love how quickly fish cooks in a hot skillet!
The Best Way to Cook Cod
Growing up, I always saw recipes for baked fish in my mom's cookbooks. Now, I'm wondering why the heck those cookbooks omitted pan-fried fish.
Seriously, pan-frying fish is THE best way to cook up cod, salmon, and pretty much any other fish you get your hands on.
Now, I feel it's necessary to point out that I enjoy plenty of seafood recipes cooked in other ways. I'm certainly not saying pan-frying is the only way to cook fish! Just that for quick meals that still sport a ton of flavor, pan-frying is wonderful.
A simple spice blend, a hot skillet, a couple minutes of cooking on each side, and this cod is ready to go!
Also Check Out:
Fish Taco Bowls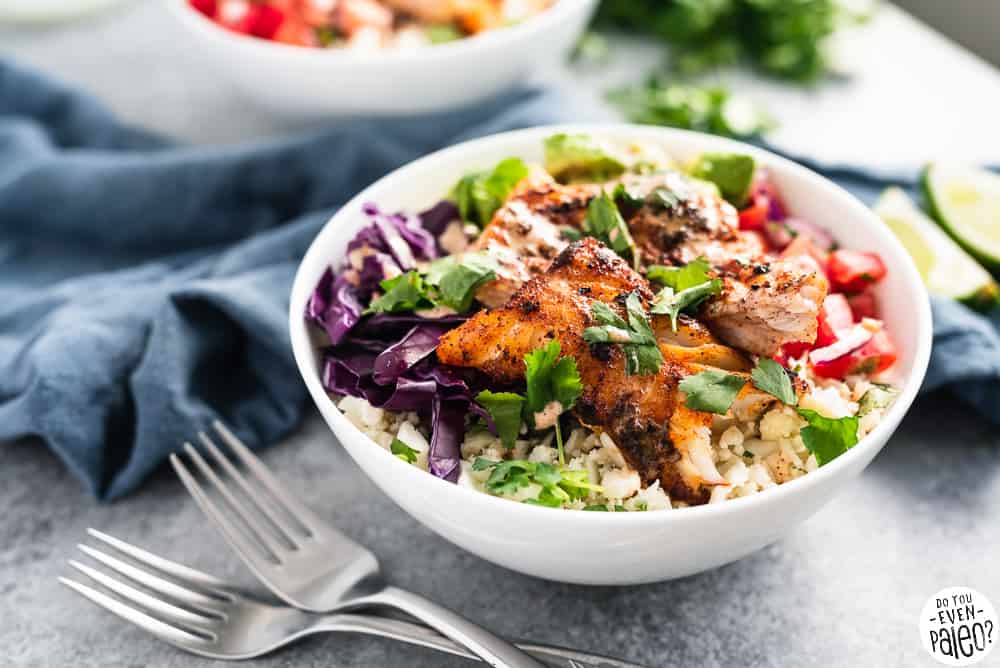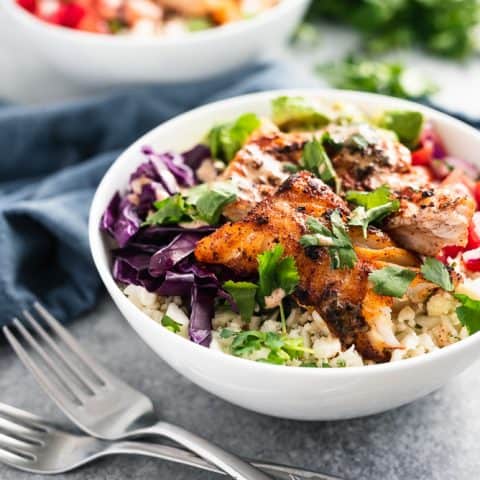 Fish Taco Bowls | Paleo, Whole30, Keto
With pan-fried seasoned fish and a whole host of veggies, these Paleo and Whole30 Fish Taco Bowls are a quick and nourishing meal perfect for lunch of busy weeknights!
Ingredients
1 head cauliflower, cut into florets
2 tablespoons extra virgin olive oil, divided
1/3 cup fresh cilantro, chopped
1 tablespoon lime juice
1 pound wild caught cod
1 teaspoon smoked paprika
1/2 teaspoon sea salt
1/2 teaspoon ground black pepper
1/4 teaspoon cayenne pepper
1/4 teaspoon cumin
4 to 6 cups shredded purple cabbage
1 avocado, cubed
3 roma tomatoes, diced (about 1 cup)
1/4 cup diced red onion
2 tablespoons lime juice
1/4 teaspoon sea salt
1 jalapeno, diced (about 2 tablespoons)
1/4 cup cilantro, chopped
Lime wedges, for garnish
Fresh cilantro, for garnish
Chipotle lime dressing:
1/4 to 1/2 cup mayo
1 tablespoon full-fat coconut milk
Juice of 1 lime
2 cloves garlic
2 tablespoons apple cider vinegar
1 teaspoon chipotle powder
Instructions
First, prep the cauliflower rice. Add the cauliflower florets to a food processor and pulse until the cauliflower has broken down into a relatively uniform "rice" consistency. Preheat 2 teaspoons olive oil in a skillet over medium-low heat. Add cauliflower rice and cook for 4-5 minutes, stirring frequently. Transfer to a large bowl. Stir in cilantro and lime juice. Set aside.

Wipe out the skillet and add remaining olive oil, preheating to medium-high heat. Combine the smoked paprika, sea salt, black pepper, cayenne pepper, and cumin in a small bowl. Season the cod evenly with the spice mixture. Add the cod to the skillet and cook for about 3 minutes on each side, or until the fish is no longer translucent and can be easily flaked with a fork.

Meanwhile, create the chipotle lime dressing. Combine mayo, coconut milk, lime, garlic, apple cider vinegar, and chipotle powder in a small bowl and whisk until combined. Add more coconut milk, if desired, for a thinner consistency.

Next, make the pico de gallo. Add the tomatoes to a medium bowl. Add the red onion, jalapeno, cilantro, lime juice, and sea salt. Stir using a fork until all ingredients are mixed.

Finally, assemble the bowls. Divide cauliflower rice, cabbage, pico de gallo, and avocado between 4 bowls. Top with seasoned cod. Drizzle the chipotle lime dressing over top. If you like, you can garnish with additional lime wedges, chopped cilantro, or jalapeno.
Nutrition Information:
Serving Size:

1.5 cups
Amount Per Serving:
Calories:

338