This crispy pork belly is oven baked then pan seared for a cooked crispy skin pork great for salads, entrees and traditional Chinese pork dishes.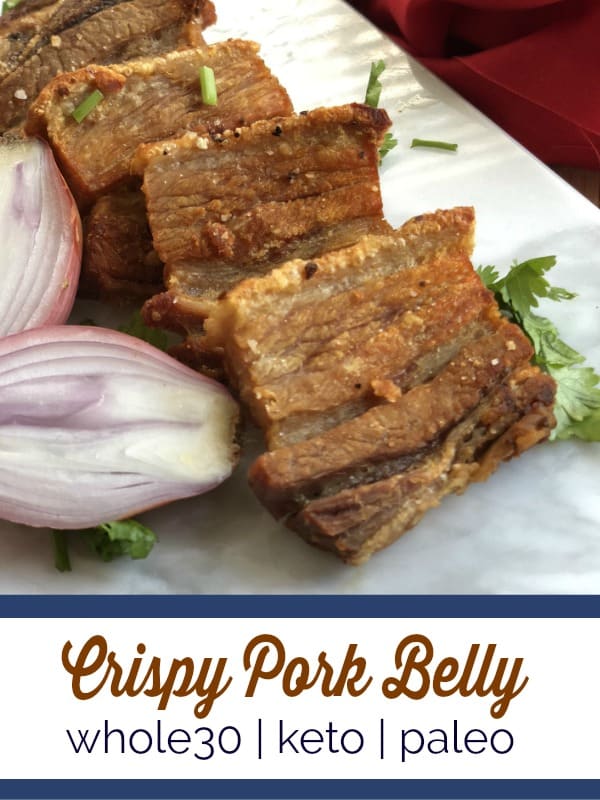 As a chef I've always been intrigued by pork belly. So many greats have sung the praises of this cut of meat but I always found it daunting. One, because there is a LOT of fat on it and two because the skin of the pig is still on it. How do you go on cooking something with that many textures and make it delicious?
When I started eating a low carb keto lifestyle, I felt like it was finally time to pony up and try cooking crispy pork belly. I thought that if I could do this right, I'd be able to have something that sort of resembles bacon even more . . . I was right. I researched a few ways on how to make this happen while also keeping it within my diet and lifestyle guidelines.
How to Cook Crispy Pork Belly

To cook crispy pork belly strips requires a 2 step process. First you must bake the pork belly in the oven to make sure the pork is cooked to a safe temperature.  After the pork belly is cooked it is then sliced then put in a pan to be seared on both sides.
What Can I Use Crispy Pork Belly In?
Crispy Pork Belly Salad
Crispy Pork Stir Fry
Crispy Pork Fried Rice
Pork Lo Mein
Sweet and Spicy Pork
Pork Belly Salad
BBQ Crispy Pork Belly
Egg Roll In a Bowl
Crispy Pork Dumplings
Pork Bahn Mi Sandwich
How do I get Crispy Pork Belly Skin?
Crispy pork belly skin comes from the searing process after the pork belly is cooked through in the oven and sliced. Oil or fat is heat up in a pan over very high heat where the pork belly strips become submerged and fried in the oil on both sides to create a golden crispy, crunchy texture.
What fat should I use to make Crispy Pork Belly?
The best fat or oil to use when making crispy pork belly is one that can handle high heat temperatures. However, you will get the best flavor from using a ghee or clarified butter.
Fats or Oils you can use:


Check Out:
Crispy Pork Belly 
Crispy Pork Belly Recipe
Total Time:
1 hour
5 minutes
This crispy pork belly is oven baked then pan seared for a cooked crispy skin pork great for salads, entrees and traditional Chinese pork dishes. 
Ingredients
1.5 pound pork belly
1 tablespoon Avocado Oil
1 tablespoon Sea Salt
1/2 teaspoon Black Pepper
2 tablespoon Ghee
Instructions
Preheat oven to 450
Score the skin on the pork belly using a small sharp knife or box cutter. This is so that the meat can expand and not shrink up with the skin. If you're unable to score the skin, pierce it with a knife all over like you would a baked potato. BE CAREFUL as the skin is very tough!
Rub down the pork belly with salt, pepper and avocado oil.
Cook pork belly at 450 for 30 minutes and then turn off the oven letting the residual heat roast the rest of the pork for about 20 minutes. This time may vary on the size of your pork belly so make sure the internal temperature reaches 165
Let pork belly cool enough to handle and slice into quarter inch slices
Heat up ghee in a cast iron skillet over medium high heat.
Sear each pork belly piece on both sides until desired crispness is reached.
Sprinkle with additional seas salt if needed and serve immediately
Notes
** For paleo option, pan fry in avocado oil
Nutrition Information:
Serving Size:

4 oz
Amount Per Serving:
Calories:

420
Total Fat:

26g
Saturated Fat:

0g
Trans Fat:

0g
Cholesterol:

0mg
Sodium:

0mg
Carbohydrates:

0g
Fiber:

0g
Sugar:

0g
Protein:

39g
Valerie Skinner is a Whole30 approved personal chef & recipe developer that bridges the gap between healthy eating and busy lives by providing simple healthy meals and recipes for you and your family.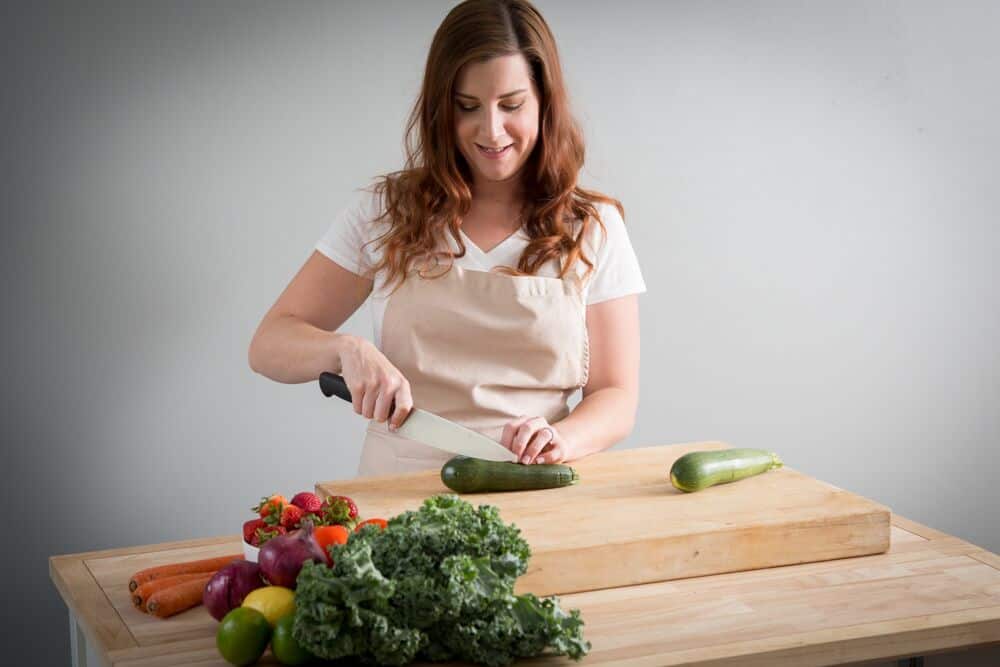 Thyme and JOY is a parnter with the Whole30 Approved program. For more information about the Whole30 reset and Personal chef services in Charleston check out these links:
Follow me on Social Media!