This tomato basil chicken makes a perfect easy pan marinara sauce that anyone can accomplish. Using canned crushed tomatoes, basil, garlic, onion it is low carb, paleo, gluten free and whole30 compliant.
I grew up on the Jersey Shore where we had SAUCE for dinner every Sunday night and on major holidays. Red sauce or sometimes called Gravy (which is fucking weird to me) is an Italian American staple and reminds me of growing up.
Truthfully, it's been ages since I've made a traditional Italian sauce like my mother and grandmothers used to make.
Moving away from New Jersey after culinary school, my cuisine choices changed drastically from the fresh island food of Hawaii to the dense comfort food of the south here in Charleston.
Sometimes people think that making a marinara sauce is hard, but really it's not. In fact, this tomato basil chicken can all be made in one pan!
How to make Tomato Basil Chicken:
First you have to cook the chicken in the pan by itself. Season it well then pan sear it until it's cooked through. Set aside.
Then it's time for your pan sauce. Saute your garlic and onion then add crushed tomatoes, basil, coconut milk and some salt and pepper and let it simmer away after adding back the chicken.
The result is a tomato basil chicken that is easy and made with simple ingredients.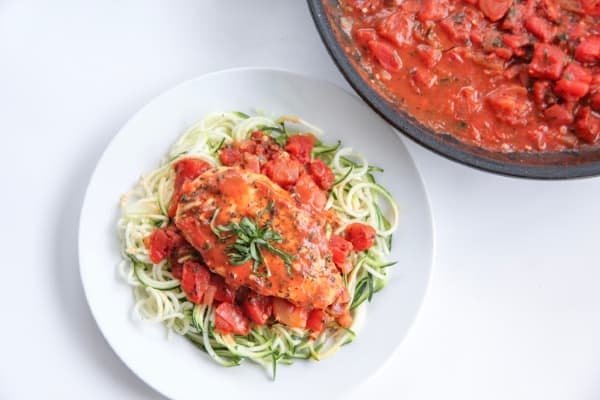 Why is there coconut milk in Tomato Basil Chicken?
Canned coconut milk is a great way to thicken soups and sauces to make them dairy free. Coconut milk purchased should be unsweetened with out any sugar or preservatives that are not whole30 approved.
The brand Thai Kitchen is my favorite coconut milk to use in dairy free cooking.
The flavor of coconut in this dish will disappear after simmering the sauce for 20 minutes.
Can you eat noodles during Whole30?
This recipe was made with those doing a low carb diet or a round of whole30. Pasta is not approved on a round of whole30 nor is it approved for those doing keto or low carb.
There are plenty of pasta alternatives for whole30 and keto ways of eating including:
Zucchini Noodles
Butternut Squash Noodles
Sweet Potato Starch Noodles
Green Bean Noodles
I prefer zucchini noodles or spaghetti squash noodles with this Tomato Basil Chicken
Whole30 Canned Tomatoes? Is that allowed?
Canned tomatoes are compliant on a round of Whole30 but make sure you check your labels for ingredients. They should definitely not contain sugar or other chemicals sometimes found in popular brands.
Check out this official forum post about Whole30 tomato paste and Whole30 canned tomatoes HERE.
Check Out:
Tomato Basil Chicken
Tomato Basil Chicken
This tomato basil chicken makes a perfect easy pan marinara sauce that anyone can accomplish.  Using canned crushed tomatoes, basil, garlic, onion it is low carb, paleo, gluten free and whole30 compliant. 
Ingredients
For Chicken:
1 lb Chicken Breasts (boneless, skinless)
1 tsp Garlic Powder
1 tsp Salt
1/2 tsp Ground Black Pepper
2 tsp Olive Oil
For Tomato Basil Sauce:
1 can Crushed Tomatoes (14oz)
1 small White Onion, diced
2 tsp Fresh Garlic, minced
1 cup Basil (loose packed and chopped)
2 tsp Olive Oil
1/2 tsp Salt
1/4 tsp Ground Black Pepper
Instructions
For Chicken Breasts:
Slice your chicken breast length wise in to thin cutlets
Season with salt, pepper and garlic powder
Add 2 tsp olive oil to a large skillet and heat over medium high heat
Add seasoned chicken cutlets and cook about 4-5 minutes on each side or until cooked through.
Once chicken is cooked, set aside on a plate and keep the pan hot
For Tomato Basil Sauce
Add 2 tsp of oil to the pan that chicken was cooked in along with garlic and onion. Saute for 5 minutes or until everything begins to soften
Add 1 can of crushed tomatoes and half of the chopped basil, stir and bring the sauce to a boil continuing to stir. Once sauce is boiling, bring it down to a simmer and stir in coconut milk.
Add chicken breasts back into sauce and simmer on low heat for about 20 minutes or until raw tomato and coconut milk is cooked through.
Serve over pasta, spaghetti squash or zucchini noodles and top with the remaining fresh basil.
Nutrition Information:
Serving Size:

1 serving
Amount Per Serving:
Calories:

248