This cajun cauliflower rice is a paleo, whole30, and keto take on dirty rice. It uses riced cauliflower, andouille sausage, pepper, onion and creole and cajun seasonings to make an easy one pot skillet meal.

SCROLL TO BOTTOM FOR RECIPE
All I ever knew about New Orleans and Louisiana is what I knew about it's food, which was really not much.
I was always intrigued by the spice combination whenever I ate dirty rice, jambalaya or even fried cat fish. New Orleans was actually one of the places I wanted to move to for 3 months after culinary school. I ended up jetting off to Hawaii instead.
During a cross country road trip to our new home in Charleston SC, we made a stop in New Orleans and had the BEST time experiencing the culture and its food.
This is my take on dirty rice or Cajun rice and beans with a whole30, paleo and keto twist.

How many carbs are in Cauliflower Rice?
Cauliflower rice or riced cauliflower has been replacing tradtional rice in a lot of recipes over the last few years.
The reason for this is because cauliflower rice is very versatile when adding to a meal and will soak up whatever flavors you cook with.
In addition to that, cauliflower rice also is popular on a keto or low carb diet and whole30 resets because it is a low calorie vegetable with low carbohydrate
Cauliflower Rice vs Regular White Nutrition Facts:
Calories (1 cup cooked)
White Rice: 206
Cauliflower Rice: 47
Carbohydrates
White Rice: 45g
Cauliflower Rice: 4g
Protein
White Rice: 4.3g
Cauliflower Rice: 3
Fat
White Rice: 1g
Cauliflower Rice: 2
Using Frozen Riced Cauliflower:
I use frozen cauliflower rice in all of my recipes because it saves me a lot of time. Making your own cauliflower rice is always an option for those wanting to save money, but beware as it can go bad much quicker.
When using frozen cauliflower rice, make sure the recipe has you warm it through or even saute it up in a pan. Doing so will release any excess water from freezing and will make a healthy dish much quicker.
My favorite brand of frozen cauliflower rice is by green giant and can be found in the frozen section of your grocery store and even in bulk at stores like Costco.
Green giant also makes other frozen riced vegetables like riced broccoli, and my favorite mix of riced sweet potato and cauliflower.
What is the difference between Creole and Cajun?
Although the flavors of creole and cajun food have similar profiles and seasonings, the difference is:
Creole Cooking: uses tomatoes, known as city food
Cajun Cooking: relies more on spices coming from peppers, known more as country food
What makes dirty rice dirty?
Dirty rice is seasoned from being cooked with a protein like pork, chicken or sausage as well as vegetables like green bell pepper and onion.
Because of this and the nature of the red colored creole or cajun seasoning, the rice looks "dirty" because its no longer white.
What spices are in Creole and Cajun Seasoning?
Although they all are different, for the most part you can find these spices and seasonings in creole and Cajun seasoning:
Salt
Pepper
Garlic Powder
Onion Powder
Oregano
Thyme
White Pepper
Paprika
Cayenne Pepper
What is Andouille Sausage?
This Cajun cauliflower rice uses Andouille sausage. Andouille is a smoked pork sausage that originated in France. It was migrated over to Louisianna. It is made with cajun and creole seasoning and has a spicy kick to it.
How to make Cajun Cauliflower Rice:
In a large pan or skillet, add oil and saute pepper and onion until vegetables begin to soften.
Add sliced Andouille sausage and saute for another 5 minutes until sausage begins to brown
Add frozen caulifower rice plus your creole or cajun seasoning of choice and toss to combine until cauilflower rice is warmed through
How to make Cajun Cauliflower rice Paleo and Whole30:
Dirty rice or cajun rice is normally made with regular white rice. To make sure this stays compliant with Whole30 or paleo eating:
Use frozen cauliflower rice: you can use raw caulifower rice but it will take longer to cook
Buy whole30 compliant andouille sausage: can be found at Whole Foods
Use a compliant Creole seasoning blend: I like this one
Check Out:
Cajun Cauliflower Rice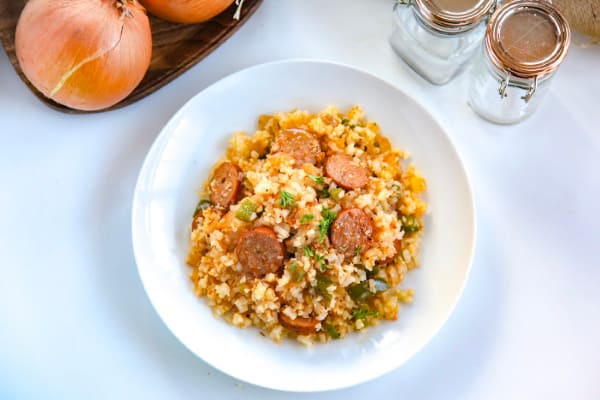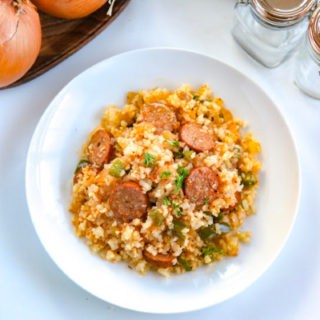 Cajun Cauliflower Rice
This cajun cauliflower rice is a paleo, whole30, and keto take on dirty rice. It uses riced cauliflower, andouille sausage, pepper, onion and creole and cajun seasonings to make an easy one pot skillet meal. 
Print
Pin
Rate
Ingredients
1

Green Bell Pepper

diced

1

Medium Yellow Onion

diced

2

tsp

Garlic

minced

12

oz

Andouille Sausage

sliced

4

cups

Frozen Riced Cauliflower

2

tbsp

[Cajun or Creole Seasoning]

1

tbsp

Avocado Oil

Salt & Pepper to taste
Instructions
Heat 1 tbsp avocado oil in large skillet or pot over medium high heat.

Add pepper, onion and garlic. Saute for 5 minutes until vegetables begin to soften.

Add in sliced sausage and saute for another 5 minutes or until sausage begins to brown

Add in frozen riced cauliflower and Cajun or Creole seasoning

Stir to combine, turn down the heat to medium and cook until the cauliflower rice is warmed through but not mushy

Serve hot and garnish with fresh chopped parsley
Notes
All creole and cajun seasonings are not created equal!  Adjust your amount of seasoning by taste as some may me much more spicy than others
Valerie Skinner is a Whole30 approved personal chef & recipe developer that bridges the gap between healthy eating and busy lives by providing simple healthy meals and recipes for you and your family.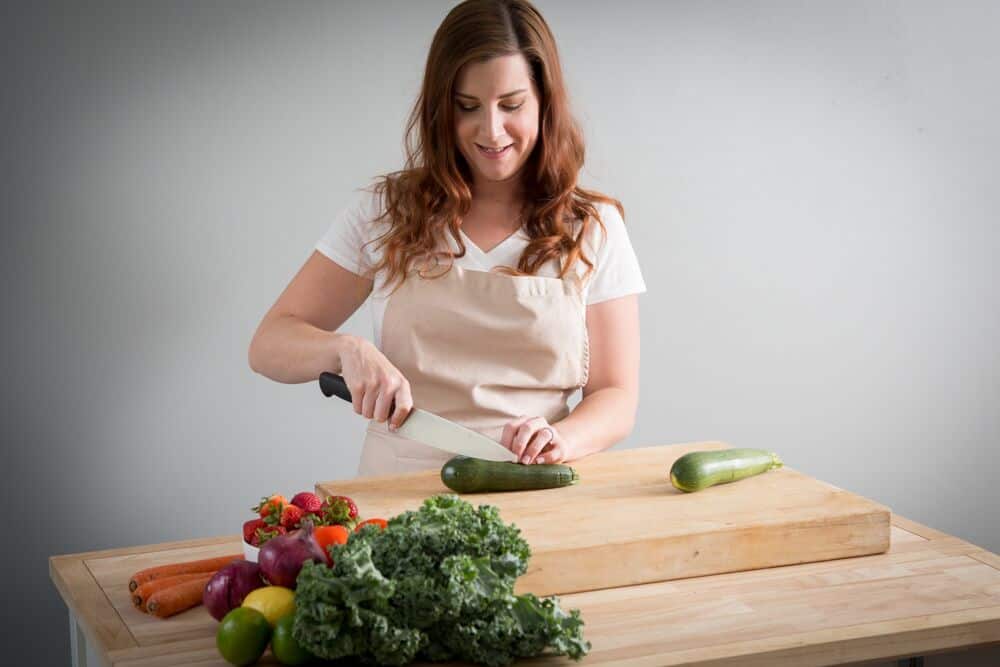 Lets Connect!
Email me: thymeandjoy@gmail.com
Join my community on Facebook
See what I'm pinning on Pinterest