This recipe shows how to reverse sear a steak using a simple method that uses an oven. Transform the way you cook steak so it is perfect temperature every time.
Just because I went to culinary school, it doesn't mean there aren't things that intimidate the crap out of me. Steak has been and always will be one of them. Unfortunately, I've ruined countless steaks by turning them into dry and grey leathery slabs or have under cooked them so much I might as well have just bit into a cow.
Things got a bit easier once I introduced the cast iron skillet into my life but it still gets confusing because each cut of meat is SO different and reacts a different way. Add to that, the size and thickness difference and you're always working against the clock, using all senses and anxiety is in the air.
Another thing that made my life a little easier was buying a digital thermometer I can poke in to make sure the temp is good. It's one thing to screw up a steak for myself but I'll be damned if I screw one up for a paying client.


How to Reverse Sear Steak
To reverse sear a steak in the oven, you would cook the steak in the oven or grill with low heat. After the internal temperature is a little below your desired temperature, you would then take it out of the oven to sear the steak in a hot pan in oil to create a crust.  As a result, you can control the temperature of your steak better.
What kind of steak can I use to reverse sear steak?
You can use any kind of steak for a reverse sear at any thickness including:
Flank Steak
Ribeye
New York Strip
Porterhouse
Steak Tenderloin
Tri Tip Steak
Filet Mignon
T Bone Steak
Hanger Steak
Top Round Roast
London Broil
Keep in mind that each cut of steak is going to take a different amount of time to cook in the oven depending on its thickness. Make sure you are using your thermometer to account in the variations in temperature and thickness depending on the steak you use.
What oil can I use to Reverse Sear Steak?
Oils that have a high smoke temperature should be used in the searing process with your steak. For instance: butter, ghee, and avocado oil would be more favorable. You could use canola oil, but the flavor may produce an unpleasant taste in the steak.
How to Reverse Sear Steak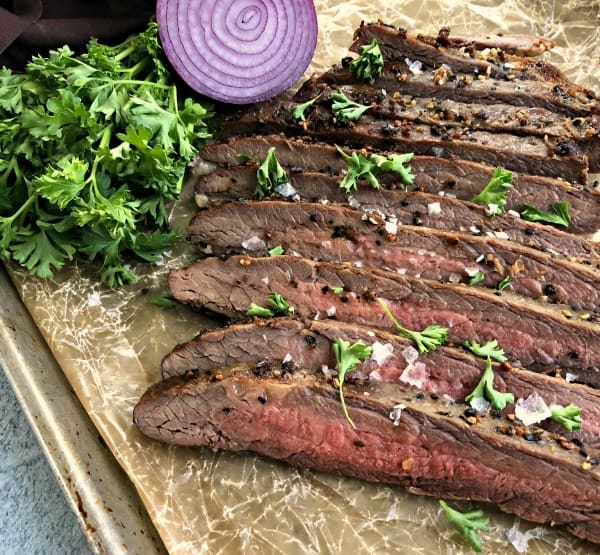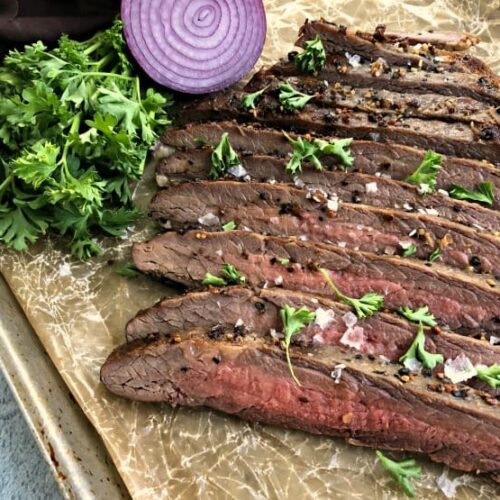 How to Reverse Sear Steak In Oven
This recipe shows how to reverse sear a steak using a simple method that uses an oven. Transform the way you cook steak so it is perfect temperature every time.
Print
Pin
Rate
Instructions
Pre-Heat your oven to 225

Remove your steak 30 minutes before cooking and rub with salt or seasoning of choice

Place on wire rack over a rimmed baking sheet and cook for 25-30 minutes or until internal temperature reaches 125-130 (medium rare).  The steak temp will go up once seared so I find this temp is perfect for a flank steak to take it out of the oven.

Heat a cast iron skillet or pan over VERY high heat with tablespoon of ghee or oil.

Once hot, take your steak out of the oven and sear 1 minute on each side until a desired crust is formed.

Tent steak with foil and let rest for 10 minutes before slicing and serving.
Notes
Steak thickness and temperature of your own oven vary, be sure to use the thermometer to get your steak to temperature at the right time.
Do not use olive oil or oils with a low smoke point to sear your steak.
Nutrition
Serving:
4
oz
|
Calories:
218
kcal
|
Protein:
31
g
|
Fat:
9
g
Valerie Skinner is a Whole30 approved personal chef & recipe developer that bridges the gap between healthy eating and busy lives by providing simple healthy meals and recipes for you and your family.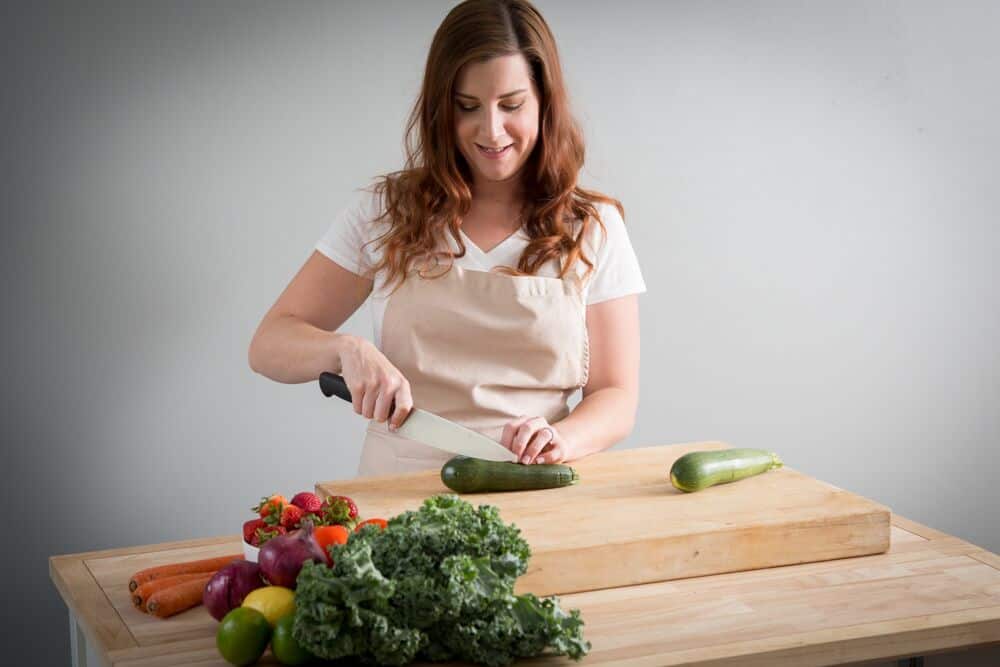 Thyme and JOY is a parnter with the Whole30 Approved program. For more information about the Whole30 reset and Personal chef services in Charleston check out these links:
Follow me on Social Media!