This instant pot french onion soup contains onions, beef broth and herbs for a deep caramelized onion flavor. Leave off the bread for low carb or paleo diets.
I'm not sure why, but I always thought french onion soup was such a fancy menu item to order. It was on a lot of diner menus growing up and I often ordered a crock. Especially when I felt under the weather or if it was super cold out side.
I'm also a huge onion lover. So huge that I remember eating vidalia onions RAW in the past. Don't even get me started on caramelized onions. And that SMELL!
I still believe that butter and onions being sauteed together is one of the best smells of all time.
What is French Onion Soup?
French onion soup is a type of soup usually based on meat stock and onions, and often served gratinéed with croutons and cheese on top or a large piece of bread. Although ancient in origin, the dish underwent a resurgence of popularity in the 1960s in the United States due to a greater interest in French cuisine. Wikipedia
Do I need to caramelize my onions for french onion soup?
Caramelizing onions is when you draw out the sugar in onions cooking them over low heat very slowly in oil. Although caramelized onions would work well in this recipe, it is not necessary to make sure they are caramelized. They still need to be cooked 15-20 minutes in the instant pot, but will get their brown color and flavor from the herbs and beef stock.
Can french onion soup be made in my slow cooker or crock pot?
Yes! This recipe can be made in your slow cooker or crock pot with these simple steps:
Saute onions and garlic in butter according to the recipe below in a pan over medium low heat for 15-20 minutes.
Add onions to slow cooker or crockpot along with beef broth, herbs and any remaining ingredients
Cook on HIGH for 4 hours or Cook on LOW for 6 hours
What cheese and bread can I use on French Onion Soup?
This recipe below is written without using cheese or bread on top of the french onion soup in order to make it a whole30 french onion soup or keto french onion soup.
However, traditionally a french onion soup base is made and then poured into oven safe crocks or ramekins and topped with a slice of french baguette and shredded Gruyere cheese. It is then put under the broiler for about 5 minutes or until the cheese gets melted and bubbly.
How do I make Vegan French Onion Soup?
Traditionally, onions are caramelized in butter which gives it a rich flavor. You could use avocado oil, but the best way to make vegan french onion soup would be to caramelize your onions in a butter substitute such as Earth Balance.
Check Out:
Instant Pot French Onion Soup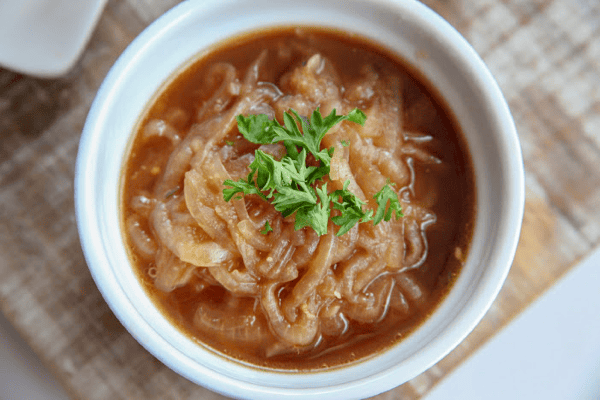 Instant Pot French Onion Soup
This instant pot french onion soup contains onions, beef broth and herbs for a deep caramelized onion flavor. Leave off the bread for low carb or paleo diets.
Ingredients
2 pounds Yellow Onion
3 cloves Garlic
3 tbsp Ghee or Butter
2 tbsp Worcestershire or Classic Marinade (for whole30)
8 cups Beef Broth or Beef Stock
1 tbsp Arrowroot Starch (or flour if not whole30)
2 Dried Bay Leaves
4 Sprigs Fresh Thyme
Instructions
Cut and slice your onions into 1/8 inch salad slices (rainbow shape) and mince your garlic.
In instant pot, use the saute function to melt 3 tbsp butter or ghee.
Once butter is melted, add onions and garlic and saute for 15-20 minutes making sure to constantly keep an eye on it and stir to keep from burning. After about 15-20 minutes the onions should be soft and translucent.
Add 1 tbsp arrowroot starch and 2 tablespoons Worcestershire or classic marinade and stir to combine.
Pour in 8 cups of beef broth.
Add bay leaves and thyme sprigs.
Cook on manual HIGH pressure for 15 minutes.
Use a quick release or natural release and serve hot.
OPTIONAL: pour in crocks or ramekins, top with bread and cheese and place under broiler
Nutrition Information:
Serving Size:

1.5 cup
Amount Per Serving:
Calories:

127
Carbohydrates:

10g
Protein:

6g
Valerie Skinner is a Whole30 approved personal chef & recipe developer that bridges the gap between healthy eating and busy lives by providing simple healthy meals and recipes for you and your family.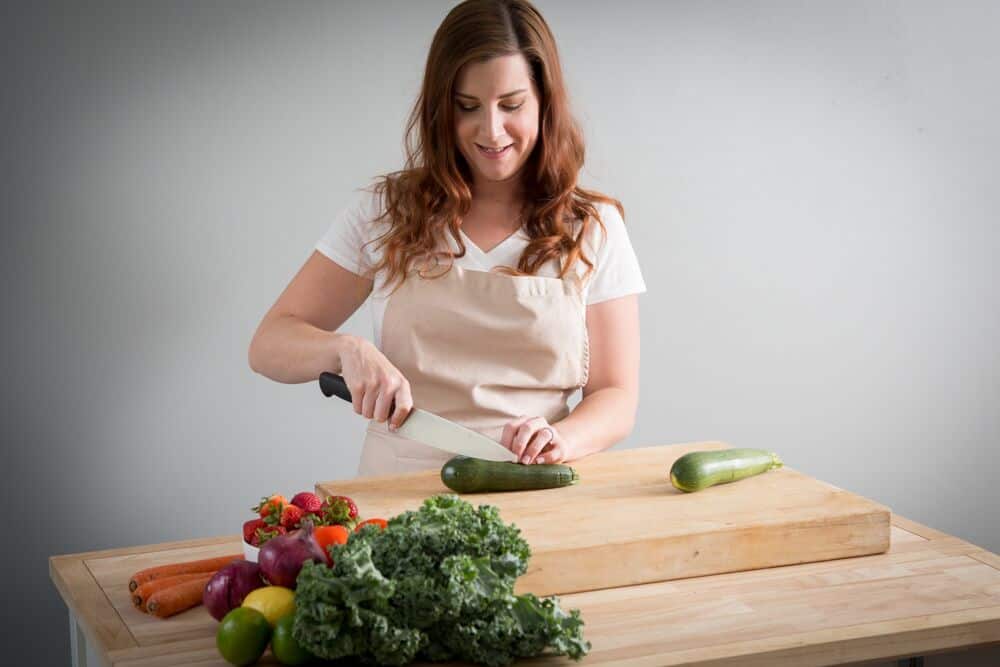 Lets Connect!
Email me: thymeandjoy@gmail.com
Join my community on Facebook
See what I'm pinning on Pinterest