This Salisbury steak is homemade from scratch and uses simple ingredients. Topped with mushroom gravy, it makes an easy quick meal on your stove top, instant pot or slow cooker. 
The only Salisbury steak I remember is the ones in TV dinners.  Does anyone out there remember kids cuisine?  Well, I think I liked it but it was probably because it came with mashed potatoes every time and who doesn't love mashed potatoes?
In my adult life, I don't think I've eaten any official Salisbury steak.  I've eaten plenty of burgers and plenty of meatloaf though. We really do eat a lot of beef in our house so I am always trying to come up with ways to change things up from the norm.
What is Salisbury Steak?
Salisbury steak is a dish made from a blend of ground beef and other ingredients and is usually served with gravy or brown sauce. – Source: Wikipedia
What gravy can I use for Salisbury Steak?
Any vegetable gravy or beef gravy can be used to top Salisbury steak.  Check out my easy mushroom gravy recipe that is easy to make and can be put on so many classic recipes.
Can I make Salisbury Steak in the instant pot, slow cooker or crock pot?
I prefer making Salisbury steak on the stove top in a pan however, you can absolutely make Salisbury steak in an instant pot, slow cooker or crock pot.
Instant Pot Salisbury Steak: saute patties 2 minutes per side, add broth or water then cook on manual high pressure for for 15 minutes.
Crock Pot or Slow Cooker Salisbury Steak: brown meat patties in a pan with oil or butter over high heat. Add the patties along with some broth or water to your slow cooker and cook on LOW for 4 hours
Is Salisbury Steak Keto or Low Carb?
Because Salisbury steak is made with just ground beef and no flour binders, it is an excellent meal prep and dinner option for low carb or keto diets and ways of eating. For instance, this recipe for Salisbury steak has 3 carbs per serving without the mushroom gravy.
Check out the recipe below to see how to make Salisbury Steak from scratch!
Check Out:
Salisbury Steak
Salisbury Steak With Mushroom Gravy
This Salisbury steak is homemade from scratch and uses simple ingredients. Topped with mushroom gravy, it makes an easy quick meal.
Ingredients
FOR SALISBURY STEAK
1 pound Ground Beef
1/4 cup Onion, minced
2 tsp Garlic, minced
2 tbsp Marinade, Coconut Aminos or Worcestershire
1 tbsp Ketchup or Tomato Paste
1 tbsp Avocado Oil or Ghee
Salt/Pepper to taste
FOR MUSHROOM GRAVY
8 oz White Mushrooms, sliced
1/4 cup Red Onion, small dice
2 tsp Garlic, minced
2 tbsp Fresh Rosemary, minced fine
1 tbsp Ghee or Butter*
2 tbsp Worcestershire or The New Primal Classic Marinade*
2 cups Beef Broth
2 tbsp Arrowroot Starch
Salt/Pepper to taste
Instructions
FOR SALISBURY STEAK
Add all ingredients to a large bowl.
Combine with hands gently until all ingredients are evenly distributed throughout.
Form into 4 steak patties.
In a large skillet, heat up 1 tbsp oil of choice.
Add patties to skillet and cook over medium high heat for about 5 minutes each side or until cooked to desired temperature.
Top with warm mushroom gravy.
FOR MUSHROOM GRAVY
In a large pan, heat up butter or ghee over medium high heat.
Add mushrooms, garlic, onion and rosemary and saute until everything starts to brown.
Add beef broth, Worcestershire or marinade and turn heat down to a simmer.
In a small bowl, whisk 2 tbsp arrowroot starch with enough water to combine it all together without clumps.
Whisk this mixture into gravy until fully incorporated and simmer gravy until desired consistency is reached (about 10 minutes)
Store in an air tight container for 7-10 days.
Nutrition Information:
Serving Size:

1 steak
Amount Per Serving:
Calories:

252
Total Fat:

10g
Carbohydrates:

3g
Protein:

34g
Valerie Skinner is a Whole30 approved personal chef & recipe developer that bridges the gap between healthy eating and busy lives by providing simple healthy meals and recipes for you and your family.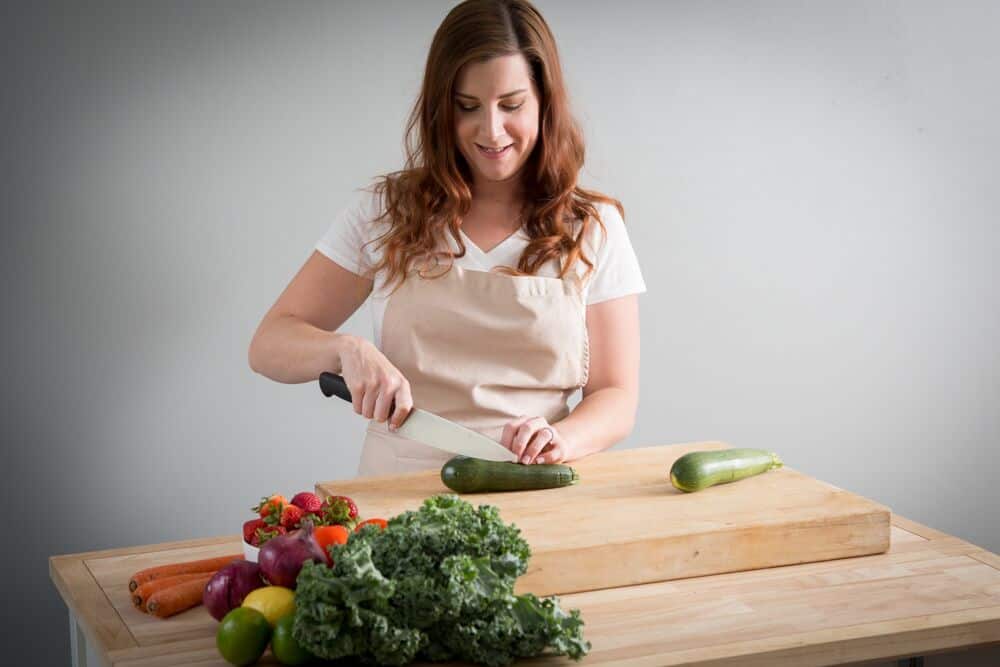 Lets Connect!
Email me: thymeandjoy@gmail.com
Join my community on Facebook
See what I'm pinning on Pinterest