I always found it so strange that a large chunk of our day is spent sleeping. We dedicate so much to this process of powering down in order to function upon awaking just as if we're robots of some sort. I'm going to do you all a favor and digress from this thought and move on . . .
Melatonin and cortisol (hormones) do a delicate dance every day to try and keep our sleep rhythms at a normal pace. Cortisol is responsible for waking us up and peaks during the day while melatonin peaks around 10pm and keeps gets us sleepy and ready for bed.
Sometimes, melatonin in the body gets low which is most likely due to stress or other imbalances. Taking melatonin supplements could be an option, but when this happens to me, I usually prefer a more natural method that happens to taste good.
This recipe combines the best of both worlds for me.
It contains tart cherry juice, which:
promotes natural melatonin production
helps reduce joint pain and inflammation
helps post-workout recovery
And a collagen supplement which does a multitude of amazing things such as:
improves gut health
helps grow strong hair and nails
promotes radiant and glowing skin
high in protein and amino acids (body buildin
g blocks)
Supplementing with collagen may be something you've never tried before and for me, this was the recipe that eased me into it. I am currently using Vital Proteins Beef Gelatin** in the GREEN container. This is important for gummies as this will be what gels up. Collagen peptides do not. Also, if you REALLY need to just ease in, try making a batch of my Rotisserie Chicken Bone Broth in the meantime.
You will also need 100% tart cherry juice. It is important that you obtain tart cherry juice and not just regular cherry juice that may have sugar added. Tart cherry juice has been known to have the highest health benefits. This can be found in most grocery stores but I've found it is cheaper at Trader Joe's every time… love them!
As far as serving sizes go, I tend to eat 1-2 pieces per day. I usually have one with breakfast and one before bed, but generally before bed would be more beneficial. Please note: this is not a cure for insomnia but it is a natural way to get a great dose of nutrients in a really fun and customizable format.
Tart Cherry Gummies | For Better Sleep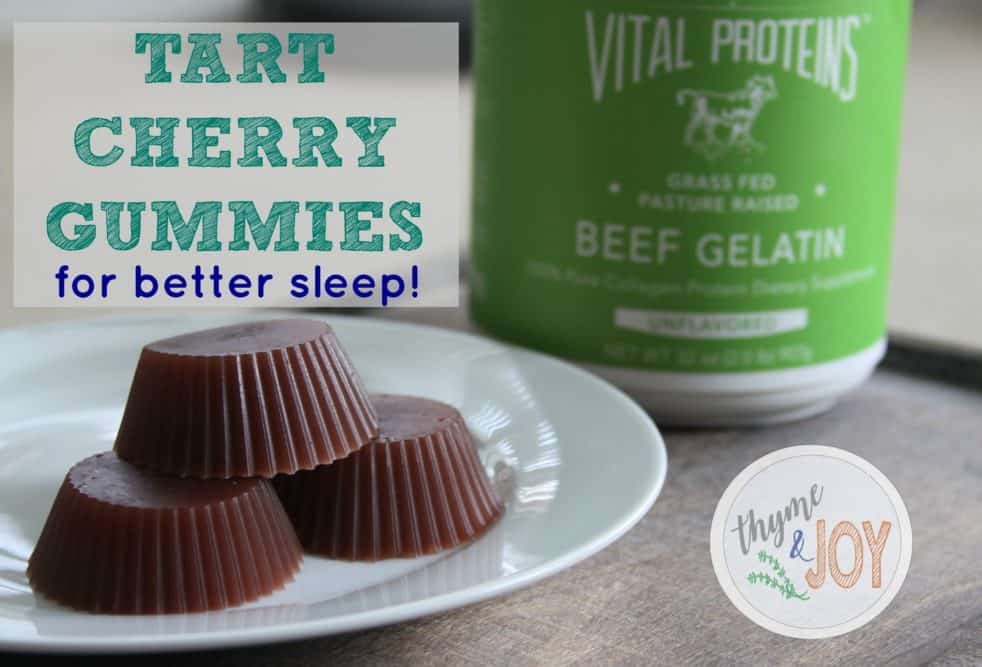 Tart Cherry Gummies | For better sleep
These cherry gummies are a fun way to pack a does of relaxing recovery nutrients in a fun customizable format! 
Ingredients
100 grams Gelatin Powder
2.5 cups 100% Tart Cherry Juice
Supplies
1 small sauce pan
1 measuring cup
1 cupcake or muffin tin
1/2 tbsp coconut oil to grease muffin tin (OPTIONAL)
Instructions
Add cherry juice to a small sauce pan
Add the gelatin to the top of the juice and whisk in
Place saucepan over medium heat and consistently whisk gelatin into juice until gelatin is dissolved and reaches its original color
Pour mixture into oiled muffin or cupcake tins until each cup is filled at desired level
NOTE: if using silicone cups, no oil is needed
Let sit in refrigerator for 1 hour or until completely chilled. Pop out of molds and store in container or ziploc for up to one week.
Notes
**Shapes are customizable! Wonderful silicone molds can be found at craft stores or places like target
**You could also pour the mold into a baking or loaf pan and make gelatin cubes
**affiliate link below
Thyme and JOY is a parnter with the Whole30 Approved program. For more information about the Whole30 reset and Personal chef services in charleston check out these links:
Follow me on Social Media!