This low carb eggplant lasagna is made with a flavorful basil cashew cream sauce and is layered with eggplant to make a hearty dinner that is also gluten free.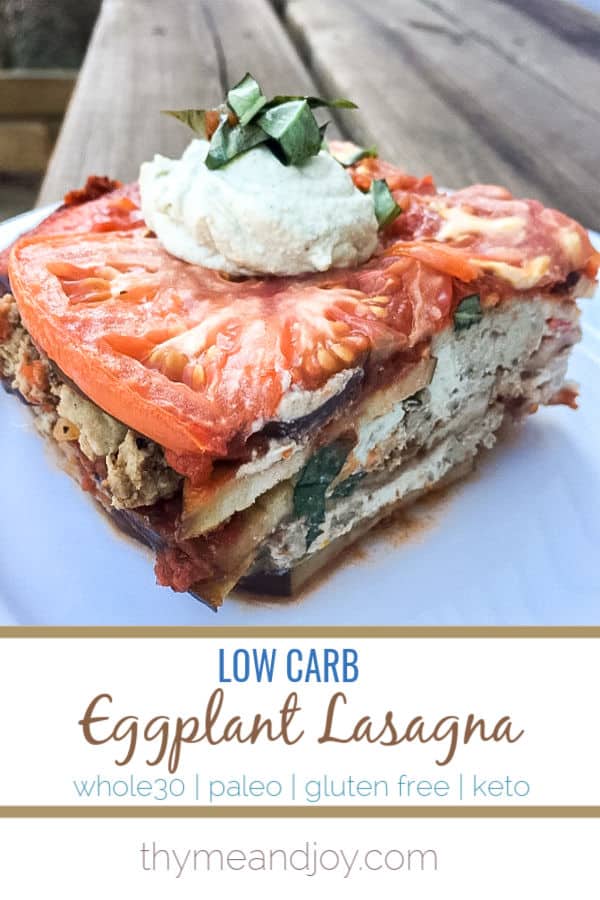 My husband is sadly not a fan of eggplant. He says the texture is too weird for something that has no flavor. I totally get it but I also think he just hasn't had eggplant the right WAY.
Since I am mostly Italian, I grew up eating eggplant Parmesan which was PERFECT to me.
Low Carb Eggplant Lasagna is a "diet friendly" versatile dish that is not only low carb, but is gluten free, dairy free, paleo and can also be vegan and vegetarian.
Is Eggplant Keto and Low Carb?
Eggplant is naturally low in carbs but high in nutrients. Eggplant is a non-starchy vegetable that is water rich and has the benefit of soaking up whatever flavor you cook into it.
1 cup of eggplant has:
20 calories
0.2 grams of fat
4.7 grams of carbs
2.8 grams of fiber
This means that Eggplant total net carbs are 1.9 carbs per cup!
One Ingredient Vegan Cashew Cream Sauce:
This recipe is nothing without vegan cashew cream sauce. By mixing soaked cashews with water, you can make a vegan, vegetarian and dairy free cream sauce that can be flavored in many different ways.
In this recipe, the cashew cream sauce is mixed with basil to make an Italian style vegan ricotta that is spread between the layers of eggplant lasagna.
Eggplant Lasagna Recipe Tips:
For Whole30 Eggplant Lasagna: follow recipe as written below
For Vegan Eggplant Lasagna: omit meat from recipe and add vegan meat substitute or no meat substitute at all
Since Eggplant holds a lot of water, a lot of it can draw out during the cooking process. To help draw out water BEFORE lasagna is cooked, lay out slices of eggplant and sprinkle with a small amount of salt. Wait 20 minutes and pat off excess water with a paper towel.
If you are not dairy free, you can use regular ricotta cheese in this recipe in place of the vegan cashew cream sauce.
Eggplant Lasagna With Meat can be made with ground turkey, pork, beef, lamb or even ground chicken.
Check Out:
Low Carb Eggplant Lasagna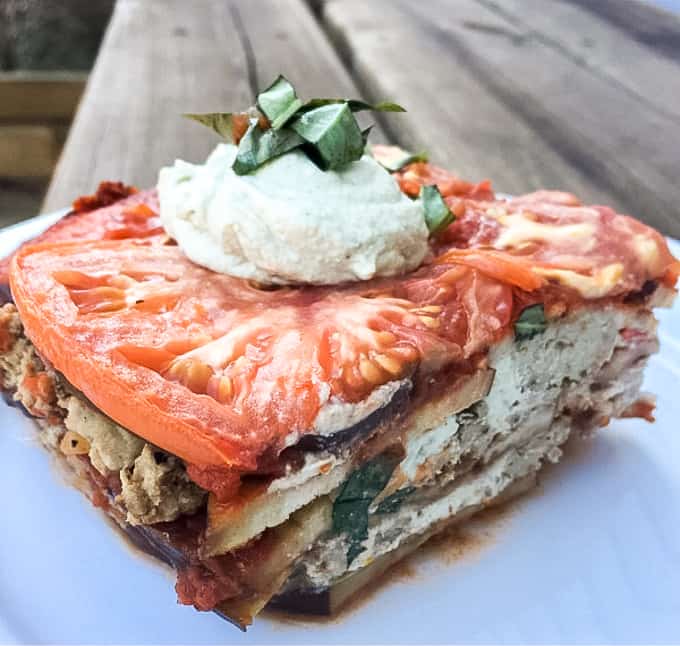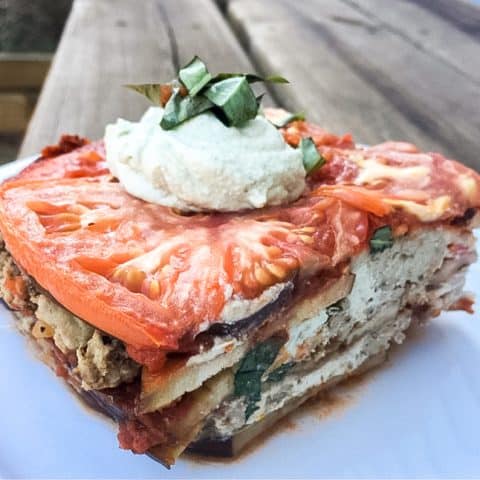 Low Carb Eggplant Lasagna
Total Time:
1 hour
25 minutes
This low carb eggplant lasagna is made with a flavorful basil cashew cream sauce and is layered with eggplant to make a hearty dinner that is also gluten free. 
Ingredients
2 medium Eggplant
1 large Tomato
1 bunch Basil
1 pound Ground turkey, pork or beef
16 oz Marinara Sauce
2 cups Cashew Cream Sauce
2 tsp Garlic Powder
1 tbsp Fennel Seed
Salt + Pepper to taste
Instructions
Preheat the oven to 375
Add the ground meat, garlic powder, fennel seed and salt, pepper to a skillet and saute until cooked through (not browned)
Slice your eggplant into thin 1/4 inch slices, chop basil into rough pieces and slice your tomato in thin slices wide.
Pour a thin layer of marinara on the bottom of a 9X13 pan spreading out evenly
Add one layer of sliced eggplant overlapping each piece halfway until the bottom is covered
Add half of the ground meat mixture and spread evenly
Add half the cashew cream sauce and spread evenly on top of meat mixture
Add another layer of eggplant slices
Add a thin layer of sauce on top of the eggplant slices and repeat adding the rest of the meat and rest of the cashew cream sauce on top
Add a final layer of eggplant on top, then top with remaining marinara and add sliced tomatoes on top arranging neatly
Bake in the oven at 375 for one hour or until eggplant is fully cooked through
Let cool for 10 minutes before slicing and serving. Top with basil for garnish!
Nutrition Information:
Serving Size:

1 piece
Amount Per Serving:
Calories:

291
Valerie Skinner is a Whole30 approved personal chef & recipe developer that bridges the gap between healthy eating and busy lives by providing simple healthy meals and recipes for you and your family.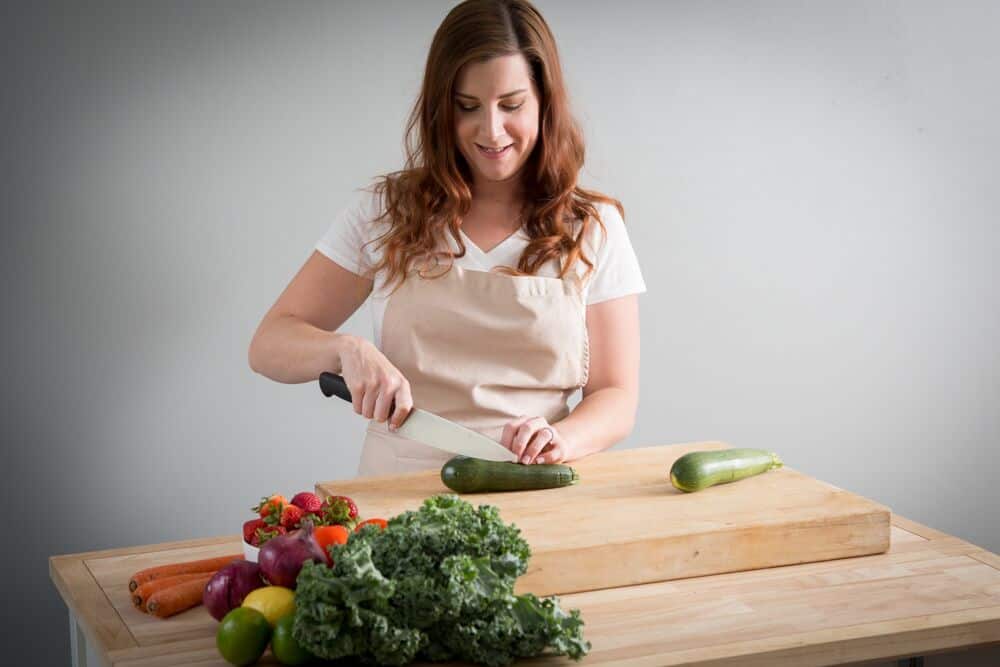 Lets Connect!
Email me: thymeandjoy@gmail.com
Join my community on Facebook
See what I'm pinning on Pinterest