This vanilla bean sea salt ghee is a perfect subsittute for buying expensive brands. It is also great in coffee, on baked goods and suitable for Whole30 or keto diets.
Just like kale, chia and collagen, ghee and clarified butter has made its way on to the list of foods that are trendy but have been around FOREVER (which is why I'm sharing with you this Vanilla Bean Sea Salt Ghee recipe)!
I'm not complaining at all. In fact, I think that the resurgence of these foods creates great awareness around healthier eating.
Could you imagine if Gushers came back as a thing?
The deal with ghee is pretty simple: ghee is butter that has the milk proteins and solids removed from it leaving its beautifully buttery oil. Besides the benefits it has being a healthy vitamin rich fat, it also has a very high smoke point making it versitile to cook with.
I use ghee all the time at home, but it can be pricey!  Especially if you want fancy flavors like garlic or vanilla bean sea salt ghee. While I love supporting companies that make it, I really enjoy vanilla bean sea salt ghee for my coffee.
Why?
Honestly, because it tastes good to me. I got hooked on coffee with my favorite collagen and ghee after I tried bullet proof coffee and realized that I needed to modify as I was more about the flavor than consuming that much fat in the morning.
Make it work for you!
I also love this vanilla sea salt ghee because it is compliant Keto and Whole30 programs.
Besides coffee, vanilla bean sea salt ghee can be used on baked goods, toast and on pancakes or waffles. The vanilla flavor gets deeper over time!
Check Out:
Vanilla Bean Sea Salt Ghee
Vanilla Bean Sea Salt Ghee
This vanilla bean sea salt ghee is a perfect subsittute for buying expensive brands. It is also great in coffee, on baked goods and suitable for Whole30. #keto #whole30
Print
Pin
Rate
Ingredients
8

oz

Grass Fed Butter

unsalted

⅛

tsp

Vanilla Bean Powder

⅛

tsp

Pink Sea Salt
EQUIPMENT
1

Glass Jar

1

Nutmilk bag or Cheesecloth

1

Strainer
Instructions
Melt butter over medium heat, in a sauce pan until butter is fully melted and a slow boil is reached. Turn down heat if boiling too fast.

Over time, foam will rise to the top. Scoop out as much foam as you can. The milk solids will continue to fall to the bottom. Repeat this process until foam begins to dissapate.

Once the bubbles get bigger, the milk solids have sunk to the bottom and the butter is golden yellow in color, its time to strain.

Using a sieve, fold over cheese cloth so there is 2-4 layers and place it over the sieve and over your glass jar.

Pour butter over the cheesecloth to strain into the jar. Milk solids can be discarded.

Let cool for 1 hour then place in fridge or freezer until ghee starts to solidify. Timing is VERY important here. You want to make sure the ghee is about ½ solidified so that you can stir in vanilla without it falling to the bottom.

Once your ghee reaches desired consistency, add in vanilla bean powder and sea salt. Stir until fully combined and vanilla is evenly distrubuted throughout.

Ghee will keep for one month without refridgeration or 3-4 months in fridge.
Notes
*using grass fed ghee is important as the milk content in cheap butters are often higher. grass fed ghee is higher in vitamin D, E and K which contributes to its rich taste!
Valerie Skinner is a Whole30 approved personal chef & recipe developer that bridges the gap between healthy eating and busy lives by providing simple healthy meals and recipes for you and your family.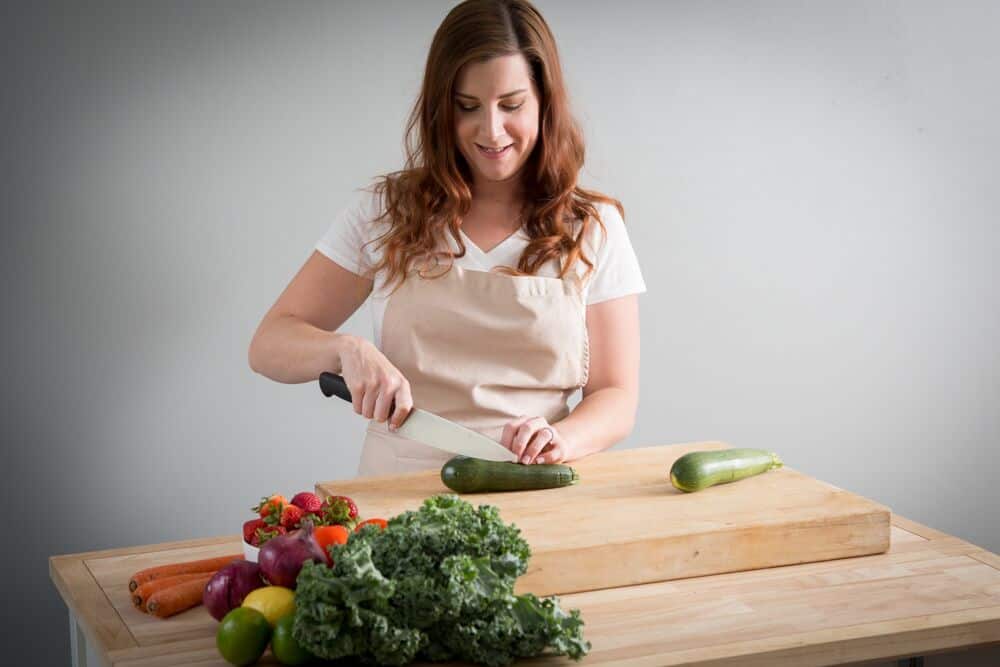 Thyme and JOY is a parnter with the Whole30 Approved program. For more information about the Whole30 reset and Personal chef services in Charleston check out these links:
Follow me on Social Media!