These Carolina Boneless BBQ wings have a sweet and tangy kick. Makes a great appetizer for game day or parties and is Whole30 compliant and Paleo.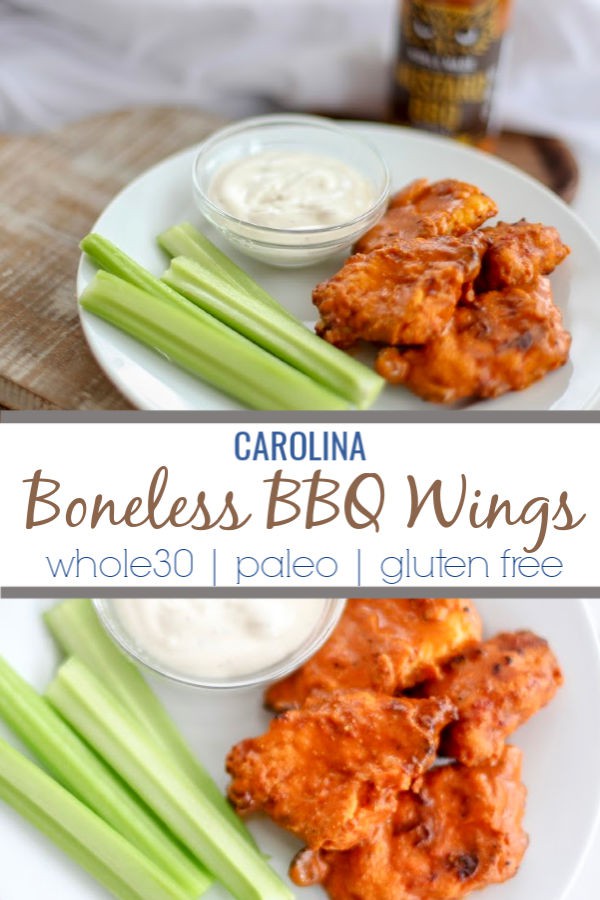 The only memory that sticks out in my mind when it comes to boneless wings is back in my high school days. Every Friday, my group of friends would find themselves at Applebee's at 10pm for half priced appetizers without fail.
My go to was always the boneless buffalo wings and I looked forward to them every week. The way I ate back then was atrocious. Sometimes I can't believe that my diet used to consist of Wendy's and wings!
Although things have changed drastically and I usually prefer bone in wings, I do have a soft spot for boneless chicken wings.
These Carolina boneless BBQ wings are a twist on BBQ wings that use Mustard BBQ sauce from The New Primal.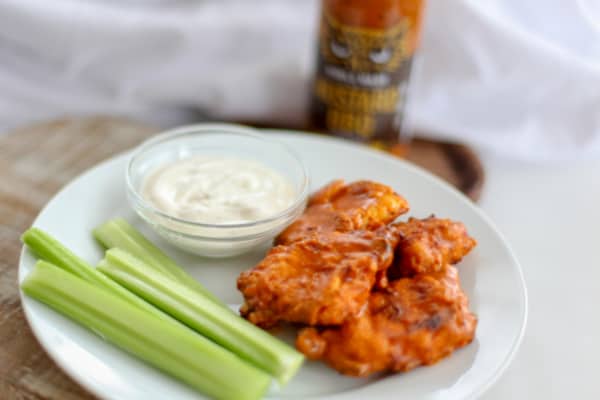 How do you make boneless chicken wings?
It's such a strange thing to call a boneless wing an actual wing because 90% of the time, boneless wings are made with chicken breast meat. It's almost like they should call them chicken nuggets but I digress!
The difference between a wing and a nugget is probably the shape and size that the pieces are cut into. Boneless wings are cut into shapes that are 3-4 bites where chicken nuggets may be 1-2 bites.
Anyway, to make boneless wings cut your chicken into pieces that would take 3-4 bites to finish.
Dip them in whisked egg, then in paleo chicken breading (see below) and bake them in the oven or bake them using an air fryer.
Once they are cooked and crispy, toss with Carolina BBQ Sauce.
Whole30 & Paleo Chicken Breading:
To bread my chicken tenders, chicken nuggets or these boneless BBQ wings, mix up this paleo and whole30 compliant chicken breading:
1.5 cup Almond Flour
1 pinch Salt
1 pinch Black Pepper
1 pinch Paprika
What is Carolina BBQ Sauce?
Carolina BBQ sauce is different from traditional BBQ sauce as it's base is made up of vinegar and mustard where as other BBQ sauce is based with molasses or sugar and ketchup.
Besides making it yourself, the only place to find Carolina BBQ sauce that is whole30 and paleo compliant is purchasing The New Primal Mustard BBQ sauce which contains all clean ingredients.


Are chicken wings Whole30 compliant?
Yes! And thank goodness they are! As long as you use Whole30 compliant buffalo sauce or a Whole30 compliant BBQ sauce (the new primal makes both!) then you can eat wings to your heart's content which for me is a lot . . .
Air Fryer Boneless BBQ Wings
To make boneless bbq wings in your air fryer, follow the same directions using the air fryer at 400 degrees for 20 minutes.
Because the air fryer cooks faster with dry heat, you may not need to broil for extra crispy chicken.
Check Out:
Carolina Boneless BBQ Wings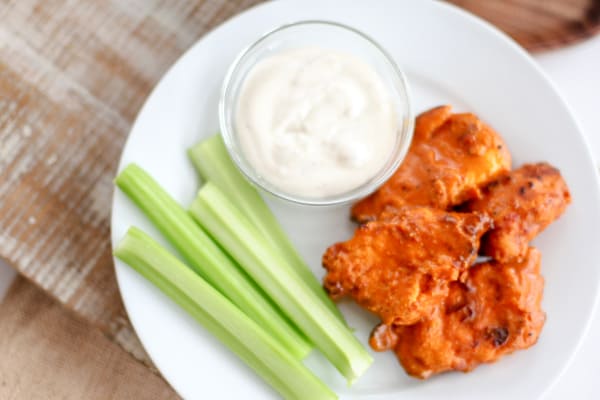 Carolina Boneless BBQ Wings
These Carolina Boneless BBQ wings have a sweet and tangy kick.  Makes a great appetizer for game day or parties and is Whole30 compliant and Paleo. 
Ingredients
1.5 pounds Boneless skinless chicken breast
2 eggs
1.5 cups Almond flour
1/4 tsp Salt
1 pinch Ground black pepper
1 pinch Paprika
2/3 cup Mustard BBQ Sauce (The New Primal)
2 tsp Avocado Oil
Instructions
Preheat your oven to 400.
Trim the fat from your chicken breasts and slice them in half length wise into filets. Cut each filet into 4 uneven triangular pieces.
In a medium sized bowl, whisk 2 eggs together.
In another medium sized bowl, whisk together almond flour, salt, pepper and paprika until fully combined.
Dip one piece of chicken breast into the egg mixture until fully coated.
Then, dredge the egg coated chicken breast piece into the almond flour mixture tossing and pressing until the chicken is fully coated in the breading.
Repeat until all pieces of chicken are breaded.
Grease a baking sheet with avocado oil and add chicken pieces in a single layer.
Cook at 400 for 20 minutes flipping half way through with a spatula.
For extra crispy chicken, broil on both sides for 3 minutes per side.
Toss in Mustard BBQ sauce until fully coated.
Serve hot.
Nutrition Information:
Serving Size:

4 pieces
Amount Per Serving:
Calories:

308
Valerie Skinner is a Whole30 approved personal chef & recipe developer that bridges the gap between healthy eating and busy lives by providing simple healthy meals and recipes for you and your family.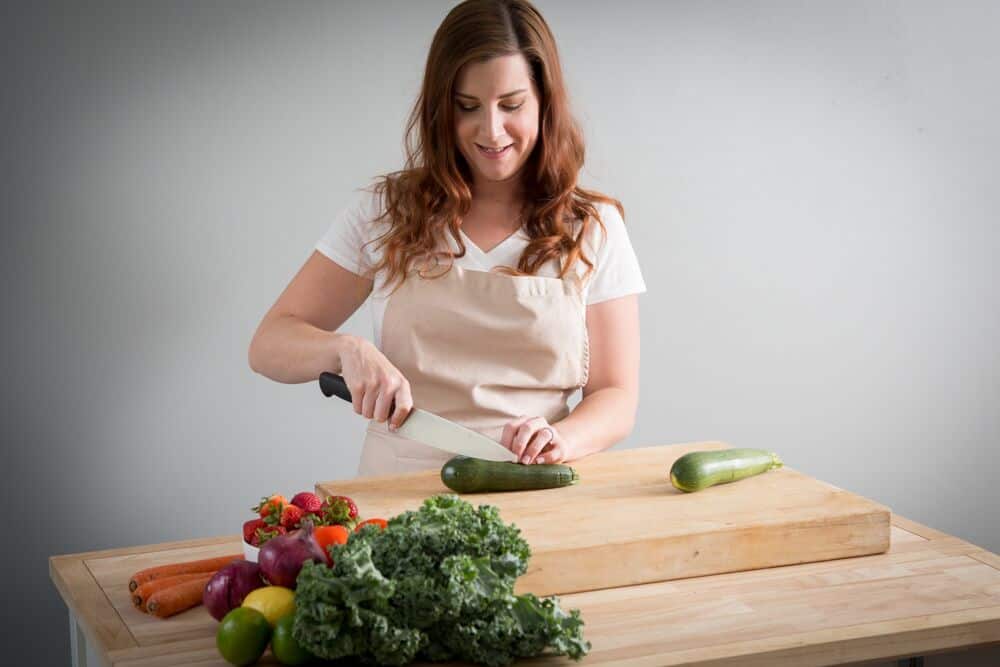 Lets Connect!
Email me: thymeandjoy@gmail.com
Join my community on Facebook
See what I'm pinning on Pinterest