These air fryer onion rings are a crispy way to eat onion rings with no breadcrumbs. Made with almond flour, flax seed and seasonings, they are a great addition to whole30 low carb or keto ways of eating.
The air fryer doesn't technically fry things because it doesn't submerge anything in oil for cooking. However, due to it's hot air circulation it makes sure things get crispy just like putting them in a fryer would with a LOT less oil.
I love making these air fryer onion rings because they are a great topping to soups and salads and don't have any bread or gluten in them.
This makes them perfect onion rings for people following a whole3o, low carb or gluten free way of eating. I love making these onion rings as a topper for my whole30 french onion soup!
Can I cook frozen onion rings in the air fryer?
Yes! If you find yourself with onion rings that are already frozen that you like, an air fryer can cook these perfectly in nearly half the time.
Generally you would need to place them in a single layer on the bottom of the air fryer basket and cook at 400 for about 20 minutes flipping and shaking a few times through the cooking process.
Can I make these onion rings in the oven?
These onion rings can be made in the oven by following all steps but preheating your oven beforehand to 400.
Place breaded onion rings on a baking sheet and bake for 20 minutes making sure to flip half way through and always checking to see how fast they are cooking. Every oven is different!
Can I use regular breadcrumbs for air fryer onion rings?
While this recipe was developed without the use of breadcrumbs, you can absolutley replace them for the almond flour and flax seed meal with your favorite breadcrumbs.
Cooking these onion rings as the recipe states will make for a keto and gluten free onion ring.
Check Out:
Cooking Tips and Tricks
If you are using regular breadcrumbs for this recipe, make sure you are not using panko breadcrumbs. A very fine breadcrumb needs to be used for it to stick to the onion well.
If you would like to make this recipe nut free, you could use flax meal only, however flax meal burns very quickly due to the high oil content in the seed so they would have to be cooked for a less amount of time and over lower heat.
These onion rings are meant to be used immediately out of the air fryer. After about 1 hour, the onion rings will become soggy so keep that in mind while you are planning your meal. They can be re-crisped back up in the air fryer but will not be 100% the same.
Homemade Air Fryer Onion Rings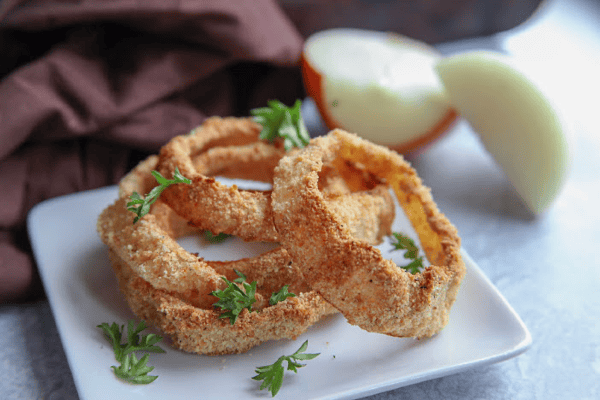 Air Fryer Onion Rings
These air fryer onion rings are a crispy way to eat onion rings with no breadcrumbs. Made with almond flour, flax seed and seasonings, they are a great addition to whole30 low carb or keto ways of eating.  
Ingredients
1 large Yellow Onion
2 eggs
3/4 cup Almond Flour
1/4 cup Ground Flax Seed
1/4 tsp Paprika
1/4 tsp Garlic Powder
1/2 tsp Salt
1/4 tsp Ground Black Pepper
Spray Olive or Avocado Oil
Instructions
Spray avocado or olive oil spray on the bottom of your air fryer basket and preheat to 400 degrees.
Take out 2 bowls. In one crack and scramble both eggs.
In the other, add almond flour, flax seed and spices and whisk together until fully combined.
Peel your onion and cut into rings that are about 1/2 inch thick and pull apart each ring. Discard the inside smaller rings or use them for something else. These could be made into onion rings if you don't mind the shape.
Dip each onion ring into egg coating it evenly and then press into flour mixture making sure it is all evenly coated. Place each ring onto a plate until you have a basket full before putting into air fryer.
Repeat above step until all onion rings are dredged and coated.
Next, spray your breaded onion rings with a light coat of olive oil or avocado oil spray to ensure they get a nice crispy brown color.
Using tongs, place in a single layer into air fryer basket. Do not over crowd the basket. Onion rings may need to be cooked in several batches.
Cook for 5-7 minutes and flip to cook another 5 minutes. Keep checking on them as they can burn quickly.
Once onion rings are cooked, serve immediately.
Nutrition Information:
Serving Size:

3 rings
Amount Per Serving:
Calories:

77
Total Fat:

4g
Carbohydrates:

4g
Protein:

3g
Valerie Skinner is a Whole30 approved personal chef & recipe developer that bridges the gap between healthy eating and busy lives by providing simple healthy meals and recipes for you and your family.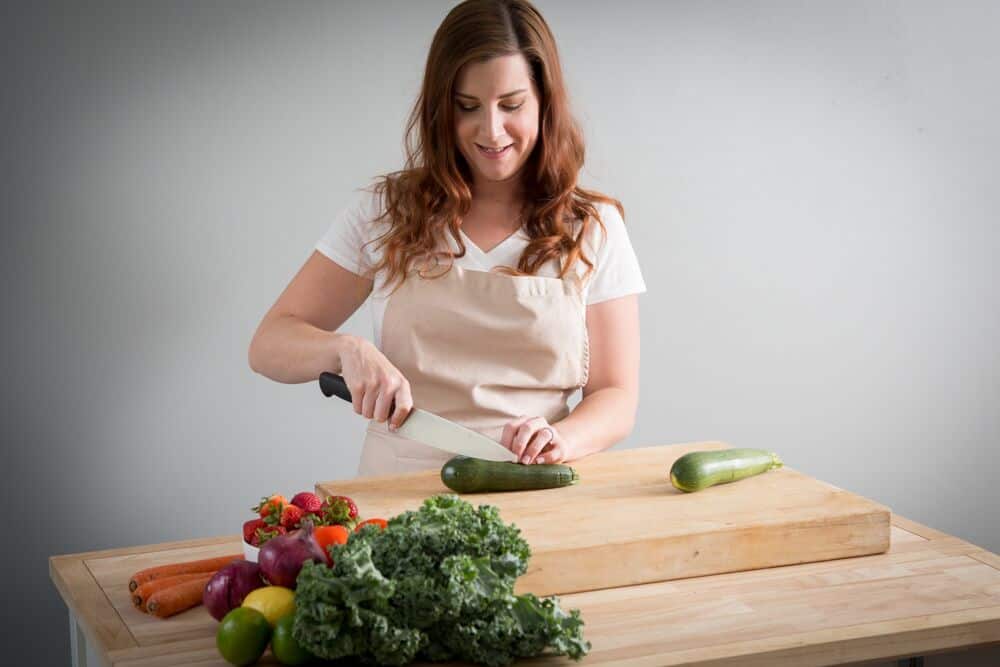 Lets Connect!
Email me: thymeandjoy@gmail.com
Join my community on Facebook
See what I'm pinning on Pinterest