This brown butter ghee is made with an instant pot and produces a nutty buttery flavor.
I started making my own ghee when I realized how much it cost to buy. Butter is cheap, ghee is not. But that's ok because it's actually pretty easy to make your own liquid gold.
A lot of questions pop up whenever I talk about ghee. Ghee and clarified have been used for centuries especially in Indian cooking. It has been gaining popularity lately because a lot of people that can't tolerate butter can tolerate ghee because the milk solids have been removed. Another reasons why it's so popular is because it is allowed on a Whole30 reset which is a REALLY good thing!
What's the difference between Ghee and Clarified butter?
Clarified Butter: is butter that has been cooked just long enough to have the water evaporate and where the solids separate. The oil portion is used as clarified butter.
Ghee: is butter that has been cooked enough to have the water evaporate AND have the milk solids caramelize for more of a nutty flavor
What is Brown Butter Ghee?
Brown butter ghee is when the milk solids caramelize to the point where they are brown and toasty lending a REALLY amazingly nutty toffee-like flavor to the butterfat once strained.
Another point I should make is that clarified butter takes a short time to make while ghee takes quite a bit longer for everything to separate fully. This is where using an instant pot makes life easier so you don't have to babysit your pot for hours on the stove.
Check Out:
Making ghee this way may also produce a product that is grainy in texture while room temperature.
As a ghee maker, the gritty texture is difficult to achieve and is considered an accomplishment. Having the grainy texture gives the ghee a higher medicinal value. It is an indicator that the ghee has been done correctly. The temperature has been kept low, so all of the antioxidants are intact. – SOURCE
Check Out:
Brown Butter Ghee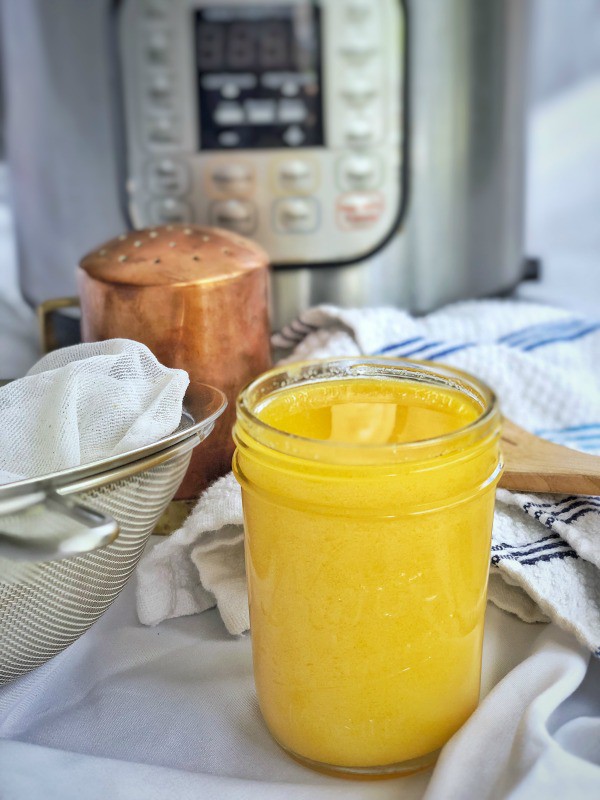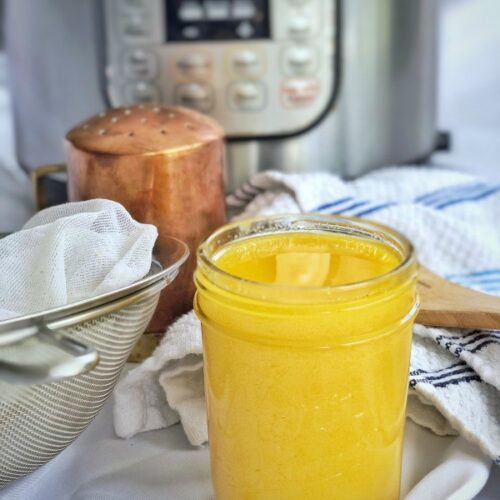 Brown Butter Ghee | Instant Pot Recipe
This brown butter ghee is made with an instant pot and produces a nutty buttery flavor.
Print
Pin
Rate
Instructions
Make sure your instant pot is completely dry before adding butter.

Press SLOW COOK on your instant pot and make sure the heat is set to normal. Cook for 2 hours uncovered.

You will see the milk solids have completely settled to the bottom. This can be strained and made into clarified butter.

For brown butter ghee, turn the instant pot onto SAUTE for 5 minutes. Make sure your splatter guard is on top of your instant pot as splattering may occur. 

As soon as 5 minutes are up, remove sleeve from instant pot and let residual heat continue to cook the milk solids. 

Once brown butter is cooled down a bit, put place your cheese cloth or nut milk bag on top of your mesh strainer and strain brown butter into glass jars. 
Nutrition
Serving:
1
tbsp
|
Calories:
80
kcal
|
Fat:
11
g
Valerie Skinner is a Whole30 approved personal chef & recipe developer that bridges the gap between healthy eating and busy lives by providing simple healthy meals and recipes for you and your family.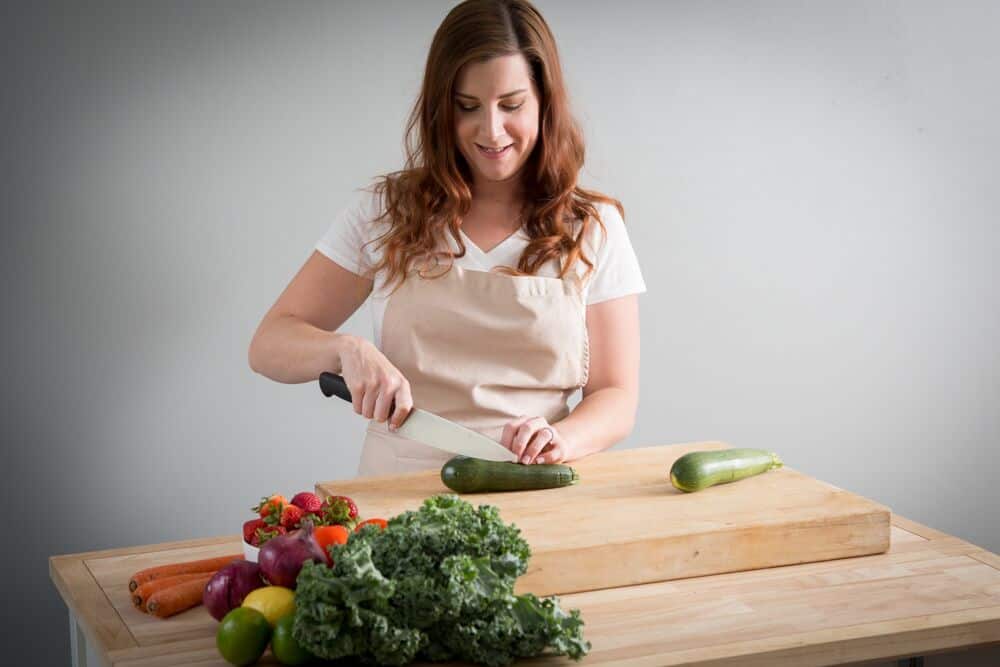 Thyme and JOY is a parnter with the Whole30 Approved program. For more information about the Whole30 reset and Personal chef services in Charleston check out these links:
Follow me on Social Media!