This gluten free coffee cake is dense, sweet and has a streusel topping loaded with chocolate chips for an extra decadent dessert. Perfect for a spring time brunch or morning holiday!
I am amazed by gluten free flour blends these days. It used to be that any baked good made with flour blends from back in the day was a serious hit or miss.
These days the combination and formulation of gluten free flour blends have come a LONG way and pretty much anything can be made gluten free including coffee cake.
Coffee cake holds a special place in my heart because I grew up eating it. There was a famous bakery in New Jersey that had the BEST coffee cake and I miss it so much!
These days, I like to enjoy as many baked goods as I can without gluten because it just feels so much better for my digestion and energy levels.
I was so happy to be able to create this recipe for gluten free coffee cake with chocolate chips because it reminds me of home AND the kick from chocolate chips brings another layer of sweetness that is a perfect addition to a morning brunch or party.
What Gluten Free Flour is Best for Coffee Cake?
In almost all of my recipes, I use the Krusteaz or Bob's Red Mill one for one blend and I love it for 2 reasons:
It already contains xanthan gum so there is no need to figure out how much to add to the recipe.
I find it ALL THE TIME at Walmart for usually less than $4 a bag for 2 pounds. I like to shop for ingredients at places most people have and that are accessible and it makes me happy that they carry this blend.
Why Is There Sour Cream In Coffee Cake?
Coffee cake is a little different then most cakes because it is topped with a really sweet topping. The cake on the bottom is typically a little tangy and definitely moist.
Sour cream is the way to get that tangy flavor and moist texture that is traditional in this sweet breakfast dessert.
I've been asked if there is a substitute for sour cream in coffee cake and the honest answer is no! At least not that I have found yet. If you can tolerate dairy, it's a good idea to make any coffee cake with sour cream.
Does Coffee Cake have Coffee In It?
Traditionally, no! Coffee cake is named for its popular pairing with coffee or tea. Coffee cake is a flexible term and is synonymous with crumb cake as well!
Also Check Out:
Gluten Free Coffee Cake with Chocolate Chips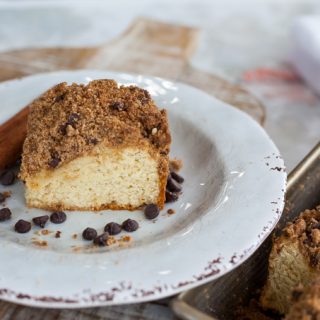 Gluten Free Coffee Cake with Chocolate Chips
Total Time:
1 hour
5 minutes
This gluten free coffee cake is dense, sweet and has a streusel topping loaded with chocolate chips for an extra decadent dessert.  Perfect for a spring time brunch or morning holiday!
Ingredients
For Cake:
1 tsp Sea Salt
1 cup Sugar
1 tsp Vanilla Extract
1 stick Butter, room temperature
2 eggs
1 cup Sour Cream, full fat
For Topping:
4 tbsp Butter, cold and chopped
1 tbsp Cinnamon
1/2 cup Dark Brown Sugar
3/4 cup Chocolate Chips
Instructions
For Cake:
Preheat oven to 350 and lightly grease an 8x8 square baking pan.
Whisk together flour, baking powder and salt in a medium sized bowl until fully incorporated.
Using a stand mixer or hand mixer, beat together room temperature butter and sugar until creamy. Add in eggs and vanilla extract and mix further. Then add sour cream and mix until all wet ingredients are fully combined.
In 1/2 cup portions, add dry flour mixture to wet ingredient mixture until all dry mix is fully incorporated into a cake batter.
Pour cake batter into greased 8x8 square baking pan.
For Topping:
Chop cold butter into squares and add to food processor along with flour, brown sugar and cinnamon.
Pulse mixture until course crumbs are formed. This can also be done with 2 forks or a pastry cutter. Be careful not to over warm the butter in mixture.
Add topping into a bowl and toss with chocolate chips.
Sprinkle topping evenly on top of cake batter in cake pan.
Cook for about 40-45 minutes or until a toothpick comes out clean. Cake may be a little wobbly when first taking out of the oven and just needs to cool and settle.
Let cool COMPLETELY before slicing and serving
Nutrition Information:
Serving Size:

1 piece
Amount Per Serving:
Calories:

398
Valerie Skinner is a Whole30 approved personal chef & recipe developer that bridges the gap between healthy eating and busy lives by providing simple healthy meals and recipes for you and your family.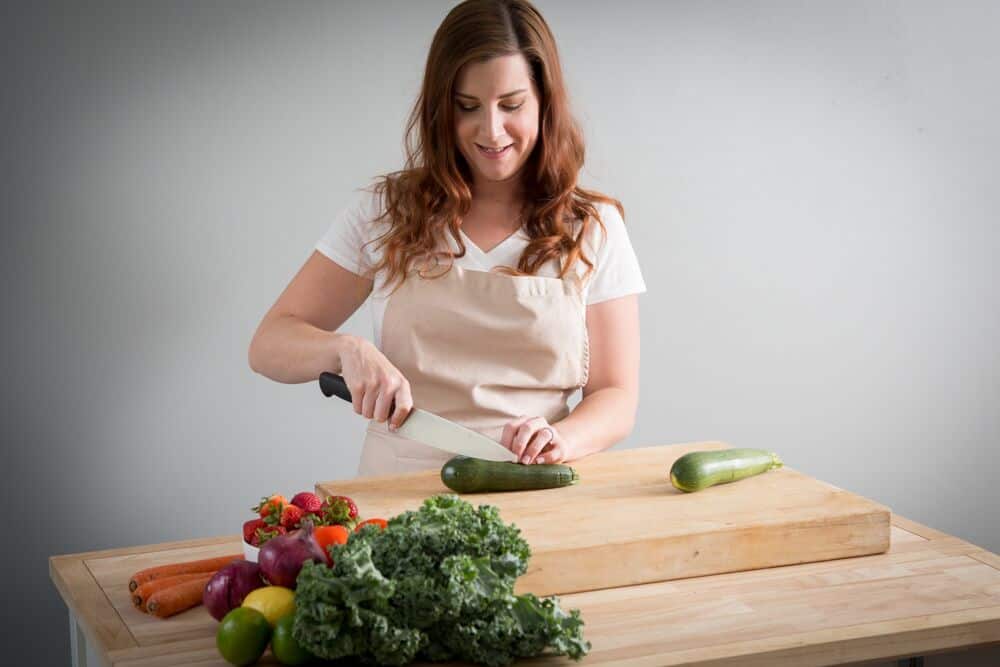 Lets Connect!
Email me: thymeandjoy@gmail.com
Join my community on Facebook
See what I'm pinning on Pinterest