These strawberry lemon bars are the perfect tangy and sweet treat for the summer. Made with fresh lemon and a gluten free buttery shortbread crust, everyone will love them.
I usually am a chocolate fan no matter what the season is, but there is something refreshing about a fruity dessert done right.
These strawberry lemon bars are done right because they also have a buttery shortbread crust on the bottom along with the light fruity filling to make them a solid dessert.
These strawberry lemon bars are made with a mix of frozen and fresh fruit.
Use Fresh Lemon Juice and Lemon Zest:
The fresh fruit is in the form of lemon juice and lemon zest. PLEASE do not try and use store bought lemon juice for this recipe. Even though it could taste the same in other recipes, it does not taste the same in this dessert.
Juicing real fresh lemons and zesting one makes all the difference!
Use Frozen Strawberries:
When it comes to the strawberry portion of these strawberry lemonade bars, you can take a little shortcut and use frozen strawberries.
Simply add a cup of frozen strawberries to a microwave safe bowl or measuring cup and microwave for 2 minutes to make sure they are able to be mashed lightly with a fork. This can also be done on the stove top in a small saucepan.
When mashing up the strawberries, be sure to leave some whole chunky pieces to add texture to your strawberry lemon bars when they are distributed on top of the lemon filling.
How Much Lemon Juice and Lemon Zest Comes From One Lemon:
The average size lemon will produce 2-3 tablespoons of fresh lemon juice and 1 tbsp of fresh lemon zest. For half a cup of fresh lemon juice, you will need about 3-4 lemons.
Gluten Free Strawberry Lemon Bars:
I love making desserts that are gluten free because they tend to digest better for me. I always use a gluten free flour blend that already has xanthan gum in it because it elminates the need to buy it separately and takes the confusion out of how much you need to add for each recipe.
My go to Gluten Free Flour Blend
Regular flour can be used in place of gluten free flour in this recipe.
How to make Strawberry Lemon Bars: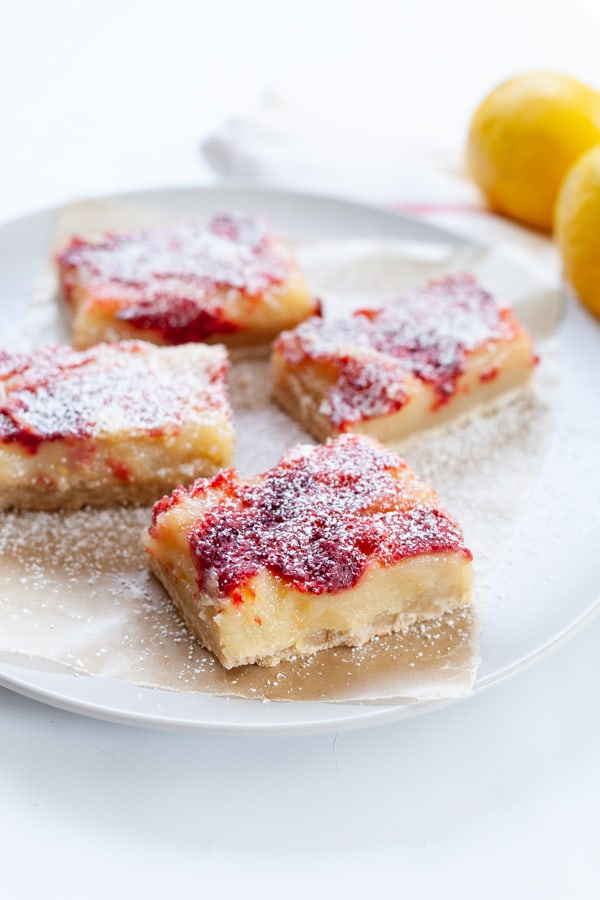 Also Check Out:
Strawberry Lemon Bars
Print