This one pot jambalaya is hearty, filling and makes a great meal to prep in large batches. Great for whole30, paleo or low carb and keto diets.
I used to think that making Jambalaya was a big mystery. The culture of it all made me shy away from making it because I was afraid to do a dis-servivce to the Cajun dish. And honestly, I didn't know how to pronounce it either.
JAM-BUH-LIE-UH
or
JUM-BUH-LIE_UH?
Truthfully, I still don't know the answer to that one but I do know that I am not scared to make it anymore and that is a win for both of us.
What is Jambalaya?
Jambalaya is a Louisiana-origin dish of Spanish and French influence, consisting mainly of meat and vegetables mixed with rice. Traditionally, the meat always includes sausage of some sort, often a smoked sausage such as andouille, along with some other meat or seafood, frequently pork, chicken, crawfish, or shrimp. – Source: Wikipedia
What it comes down to is the SEASONING of this one pot wonder. I researched a bit about what was in the seasoning for this dish and found that creole, cajun, blackened and new orleans seasonings had a lot of the same spices in common.
They all contained some sort of paprika, garlic, onion, cayenne, oregano and some thyme give or take.
Previously, I would by whatever creole seasoning I could find at the grocery store, but I happily stumbled upon Tiny Little Chef who makes her own seasonings free of preservatives and sugar and all of them are compliant with healthy lifestyles and ways of eating.
Once I had the right spices in place it was super easy going from there. I realized that this dish was going to be a hit sooner than I thought because it had 3 different types of protein that somehow all blended together perfectly with a ton of vegetables including okra. Anything that makes okra taste good without frying it is good in my book.
Traditionally, the sausage used for this Jambalaya is a spicy andouille. I usually use smoked sausage for mine since the seasoning is already spicy. You also may want to use smoked sausage to keep the dish Whole30 compliant. It still tastes great with either one!
Instant Pot Jambalaya:
I originally made this recipe like you would a soup by sauteing all the ingredients together, bringing it to a boil and then back down to a simmer until the tomatoes were cooked through, but this recipe would also do great in an instant pot using the saute function and cooking on high pressure for about 25 minutes to save you time on having to babysit it.
Dietary Concerns
This recipe is written as Paleo and Whole30 but can also be keto or lower carb by lessening the vegetable amounts you use or even the tomatoes. On the opposite end of the spectrum, replacing the cauliflower rice with regular rice is also delicious!
Tips, Tricks and Variations:
USE FROZEN: I used frozen okra and peeled and deveined shrimp for this recipe which saved me a bunch of time and money!
Make this recipe in the instant pot by using the saute function to brown the meat and soften the veggies before adding the rest of the ingredients and cooking on high pressure for 25 minutes.
EVERY creole, cajun, blackened and New Orleans seasoning is different. Some contain salt or sugar and some contain a LOT more spice than you realize. It's important to start with maybe 1-2 tbsp of the seasoning in the dish and taste as you go to adjust as necessary.
Instead of using cauliflower rice, use riced broccoli or serve over zucchini noodles.
If not following a paleo, keto or whole30 diet, use white rice or brown rice.
Crumbled sausage can be used in place of sliced sausage
Also Check Out:
One Pot Jambalaya
One Pot Jambalaya
This one pot jambalaya is hearty, filling and makes a great meal to prep in large batches and is friendly with whole30, low-carb and gluten free diets. 
Ingredients
1 Chicken Breast, diced
3/4 cup Frozen Shrimp
6oz piece Andioulle Sausage*
1 Green Bell Pepper, diced
1 medium Onion, diced
2 tsp Minced Garlic
1 cup Frozen Okra
1 15oz Can Diced Tomatoes
3 cups Riced Cauliflower, frozen
2-3 Tbsp Creole, Cajun or Blackened Seasoning
1 tbsp Cooking Oil of Choice
Salt/Pepper to taste
Instructions
In large pot or dutch oven, heat 1 tbsp of cooking oil over medium-high heat.
Add onion, garlic, bell pepper and chicken and saute for 5 minutes or until vegetables soften.
Add shrimp and sausage to pot along with creole seasoning, salt and pepper and saute for another 5-7 minutes. (saute longer if you want to brown your sausage)
Add in frozen riced cauliflower and mix until combined and warmed through.
Stir in canned diced tomatoes and okra and turn down to low heat.
Simmer for about 20 minutes stirring often until raw tomato flavor is cooked off.
Adjust seasonings as needed and serve hot.
Nutrition Information:
Serving Size:

1 cup
Amount Per Serving:
Calories:

302
Valerie Skinner is a Whole30 approved personal chef & recipe developer that bridges the gap between healthy eating and busy lives by providing simple healthy meals and recipes for you and your family.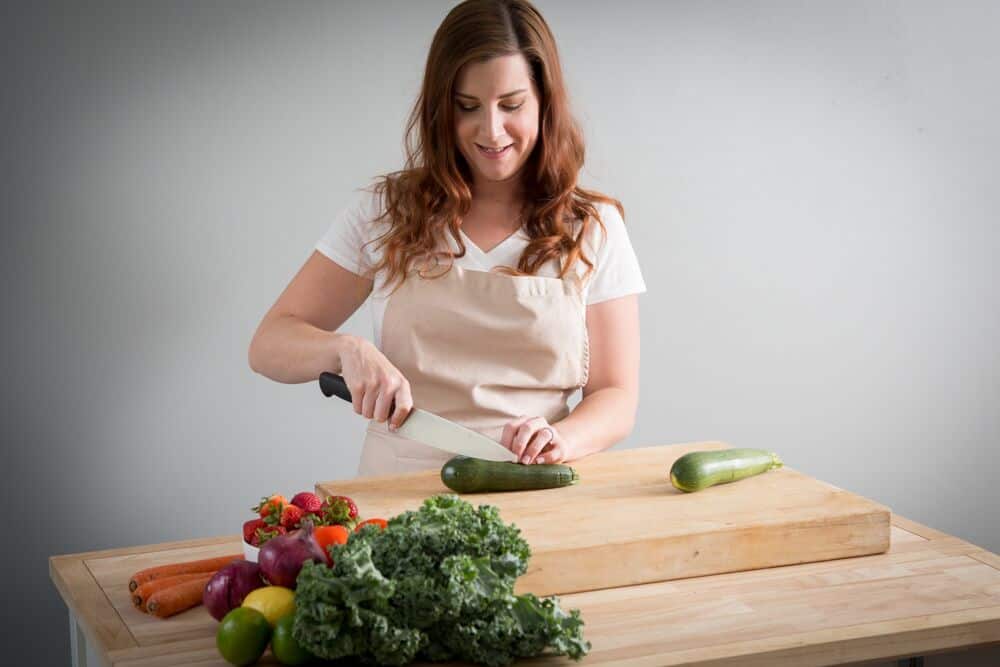 Thyme and JOY is a parnter with the Whole30 Approved program. For more information about the Whole30 reset and Personal chef services in Charleston check out these links:
Follow me on Social Media!