This chicken pot pie is hearty, warming, full of holiday flavor. Unlike traditional chicken pot pie, this recipe uses mashed potatoes as a crust to not only go on top, but also to thicken the dish without the use of flours or thickeners making it suitable for paleo and whole30 lifestyles.
Whenever I think of chicken pot pie, I think of that big green box in the frozen section by Marie Callendars. For whatever reason, this was a must pick-up during our family Costco trips growing up and now I know why!
Chicken pot pie is a FULL meal in and of itself that usually produces a lot of leftovers. This means easy lunches and dinners for at LEAST 2-3 days. Not only that but it is super filling, creamy and packs a fair amount of vegetables which is great, especially for kids.
A healthier version of chicken pot pie was definitely something I needed to re-create in my adult life as well as for my clients.
Who wouldn't want the same flavors without all of the junk that the pre-packaged stuff comes with. And what if you can't tolerate gluten or dairy?
What are two ways to make paleo and whole30 Chicken Pot Pie?
The first one is poultry seasoning. If you look at my holiday recipes, you'll see that a lot of them contain this game changing spice. This blend of spices includes rosemary, thyme, marjoram and sage to make that holiday poultry flavor really come out.
The second secret is to use POTATOES as a thickener. I actually learned this on accident as one of my recipe tests for this came out a little too watery.
Instead of throwing in the towel or making it into a soup, I decided to mix in some of the mashed potato crust to thicken it up without any gums, flours or dairy. Such a genius thing to know that can be carried on to so many other recipes!
Check Out:
Dietary Concerns
This chicken pot pie recipe is written as Paleo and Whole30 but can be modified any way you like by doing things like adding peas, using butter or completely omitting the potato crust even though that's totally what makes it!
What Potatoes Can I use for this recipe?
If possible, use golden potatoes for the mashed potato "crust". They are much more soft, cook faster and naturally have a buttery flavor that pairs well with everything else.
There are many different types of poultry seasoning you could buy. Some are stronger than others and some already contain salt.
I use about 2 tbsp of the seasoning I use for the entire recipe but you could use more or less depending on the strength and ingredients of your seasoning. Start with one tbsp of the seasoning and taste as you go and always adjust!
Pro Tips & Tricks
For a brilliant short cut, use your favorite pre-made mashed potato to mix in and top this chicken pot pie with. You're welcome!
To make this dish extras special for a holiday or potluck, add filling to a casserole dish, top with mashed potatoes and bake at 425 until the mashed potatoes start to brown and form a "crust". If you have the time, this step is worth it!
Chicken Pot Pie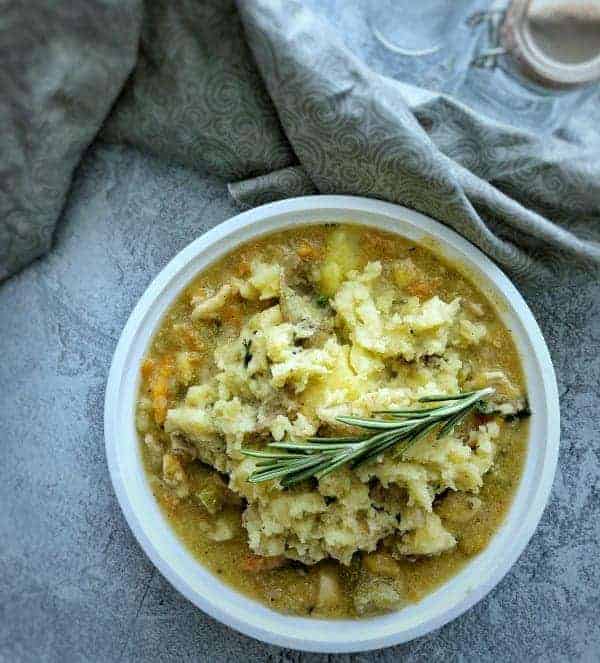 Chicken Pot Pie w/Mashed Potato Crust
Total Time:
1 hour
15 minutes
This chicken pot pie is hearty, warming, full of holiday flavor. Unlike traditional chicken pot pie, this recipe uses mashed potatoes as a crust to not only go on top, but also to thicken the dish without the use of flours or thickeners making it suitable for paleo and whole30 lifestyles. 
Ingredients
For Pot Pie Filling
1 pound Chicken Breast Raw, diced small
1/2 cup Celery, diced
1/2 cup Carrots, diced (or frozen)
1 medium Onion, diced
2 tsp Garlic, minced
1 cup Green beans, cut and frozen
8oz can Coconut Milk
1-2 tbsp Poultry Seasoning
1 tsp Dried Rosemary
1 tbsp Ghee
For Mashed Potatoes
2 pounds Golden Potatoes
2 tbsp Ghee
1/2 tsp Garlic Powder
Salt/Pepper to taste
Instructions
For Pot Pie Filling
In a medium sized pot, heat up 1 tbsp ghee over medium high heat. Add carrots, celery, onion, garlic and saute for about 5 minutes or until vegetables soften.
Add in raw diced chicken breast along with green beans, poultry seasoning, rosemary, salt and pepper and saute in together for another 5 minutes or until all chicken is opaque.
Add in coconut milk, stir together and simmer over medium heat for about 20 minutes or until chicken is cooked all the way through. The mixture of vegetables and chicken plus the liquid in the coconut milk should be enough to simmer without burning. If the filling looks like there is not enough liquid to simmer, add water in 1/4 cup increments. It is also ok if the liquid has a thin broth consistency as potatoes will be added to thicken it.
For Mashed Potato Crust
In a large pot, boil 6-8 quarts of water.
Rinse then chop each potato into large chunks. I personally leave the skin on, but if you dont prefer it, peel each potato before boiling.
Boil potatoes for 25-35 minutes or until cooked through. The timing will depend on how big your potato pieces are.
Strain potatoes and add to a large bowl. Add salt, pepper, garlic powder and ghee.
Using a potato masher, mash potatoes into a rustic chunky mash being sure to make sure spices and ghee are evenly distributed.
To Bring It All Together
Take pot pie mixture off heat and stir in 1/3 of rustic potato mixture.  This will thicken up the mixture without using any creams or thickeners. Feel free to use more or less potato to get the desired pot pie filling consistency.
Add filling to a large casserole dish or meal prep containers and top with the remaining mashed potato mix.
If you decide to put it in the casserole dish, you can place it under the broiler for a couple minutes to create a more of a brown crust effect on the top.
Notes
For Paleo Option: Use Avocado or Olive Oil in place of Ghee
Nutrition Information:
Yield:

8
Serving Size:

2 cups
Amount Per Serving:
Calories:

290
Total Fat:

13g
Saturated Fat:

9g
Trans Fat:

0g
Unsaturated Fat:

3g
Cholesterol:

54mg
Sodium:

128mg
Carbohydrates:

29g
Net Carbohydrates:

0g
Fiber:

4g
Sugar:

3g
Sugar Alcohols:

0g
Protein:

17g
It is the reader's responsibility to determine the value and quality of any recipe or instructions provided for food preparation and to determine the nutritional value, if any, and safety of the preparation instructions.
Valerie Skinner is a Whole30 approved personal chef & recipe developer that bridges the gap between healthy eating and busy lives by providing simple healthy meals and recipes for you and your family.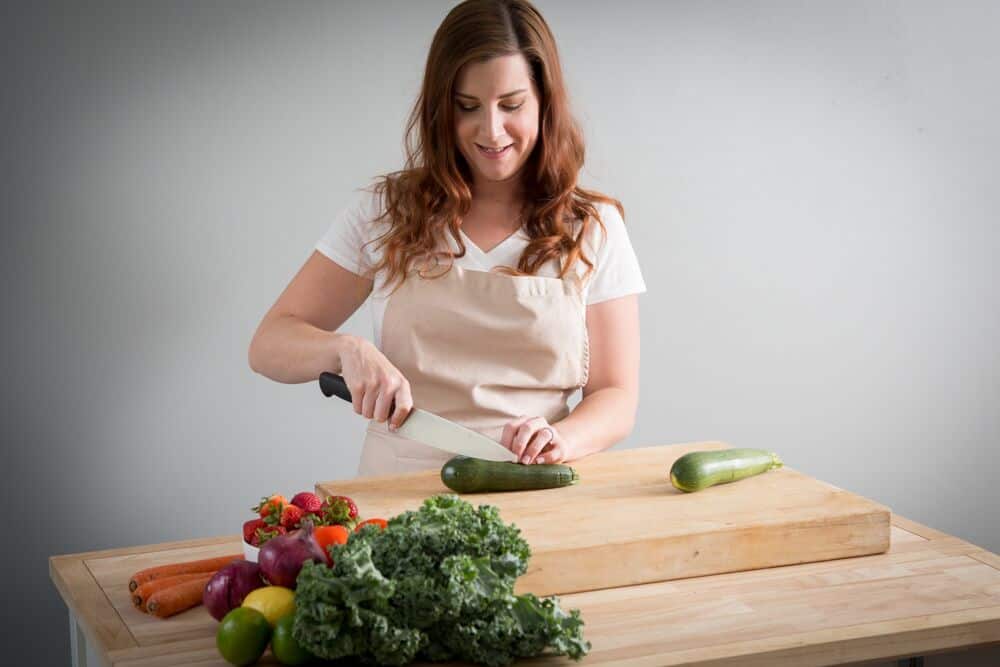 Lets Connect!
Email me: thymeandjoy@gmail.com
Join my community on Facebook
See what I'm pinning on Pinterest