If zucchini can become pasta or taco shells, then it can absolutely be just the thing to make these chicken zucchini enchiladas. This recipe uses thinly sliced zucchini along with a shredded chicken mixture topped with a homemade red enchilada sauce for a meal you can make once and enjoy all week.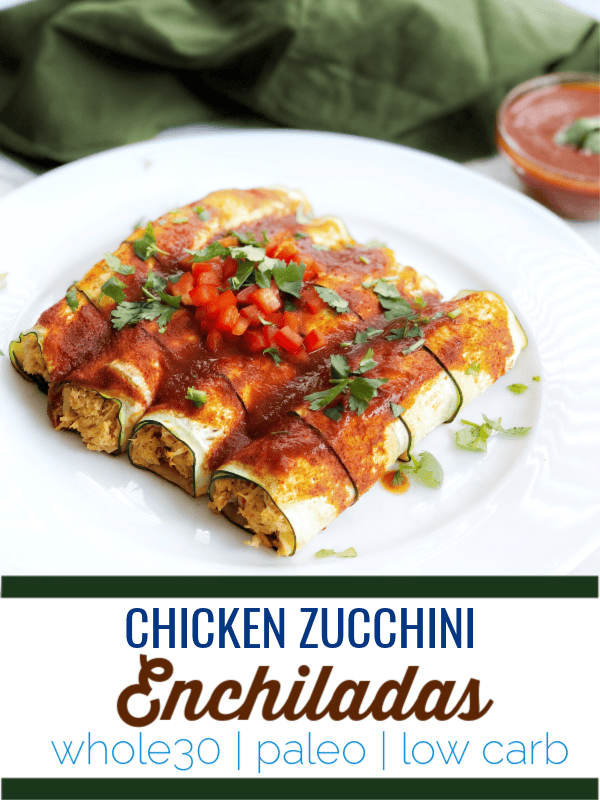 I don't know many people who don't enjoy Mexican food. This is probably because I wouldn't really get along with those people.
My love for the cuisine was always there but sadly it had to take a back seat while we lived in Hawaii. Mexican food was not really prominent in the area and the places that tried to replicate it failed pretty miserably.
Hawaii cuisine DEFINITELY made up for it though with the rich culture of all kinds of Japanese, Vietnamese, Thai and local Hawaiian food which I miss so dearly. After moving from Hawaii to Charleston, things got a little better but these days I love making my own Mexican food at home.
Enchiladas were always a favorite entree of mine. I love the combination of flavors and how rolling everything up into a neat little package and covering it with sauce was so unique to anything else. The sauce is what sealed the deal and in all honesty, its really not that hard to make.
All it takes is some tomato sauce and some spices and you have yourself a wonderful sauce that is great for enchiladas or your morning eggs.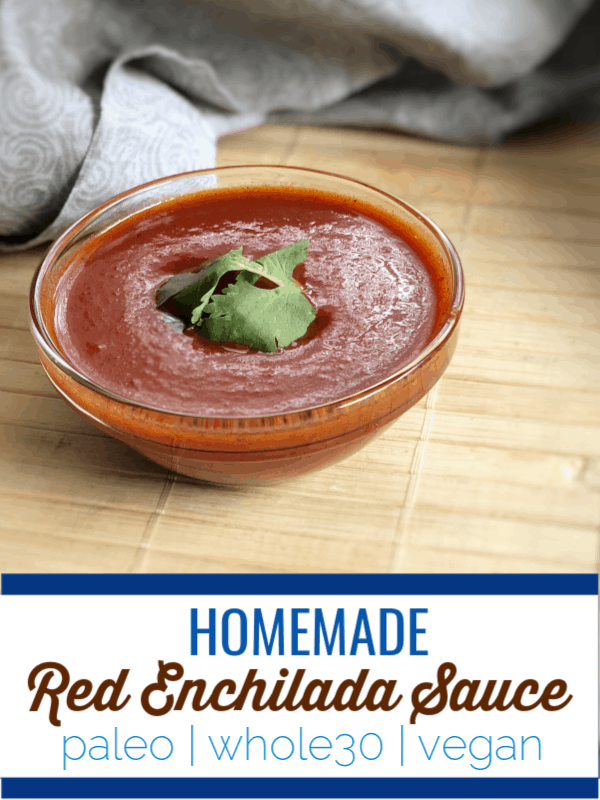 Check Out:
Once the homemade enchilada sauce was in the bag, it was time to figure out how to make enchiladas without grains. Since zucchini can do so many things like become pasta or become taco "shells" I figured it would also be great at being a tortilla once it's all layered together.
These chicken zucchini enchiladas simply uses cooked chicken breast along with some veggies and the sauce to make a great filling for these zucchini wonders.
Since the zucchini shells are a little time consuming, it's worth it to make a whole casserole dishs worth or even double the recipe to use for leftovers throughout the week. Totally worth it!
Dietary Concerns
These enchiladas are made Paleo and Whole30 in the recipe below. Feel free to swap out the zucchini "tortillas" with either flour tortillas or corn tortillas for a gluten free option. These can also be made with beef or beans and veggies for a vegetarian option.
Pro Tips + Tricks
This recipe is the perfect time to utilize pre-cooked chicken. Maybe you had a rotisserie chicken laying around or you cooked one in your instant pot and need to use up all the meat. Don't forget to make some bone broth with it too!
For this recipe its helpful to have a mandolin to cut your zucchini into nearly paper thin slices. If you don't have one, a very sharp knife will work to cut long slices but be careful!
Once all enchiladas are assembled and ready for the oven, cook only until the zucchini is cooked through since all ingredients are already cooked. Too much time in the oven can dry them out. Check periodically as every oven is different.
Be sure to purchase zucchini that is long and wide for best results. 2 large zucchini made about 4 servings. This amount will vary depending on the size of your zucchini so be sure to buy extra!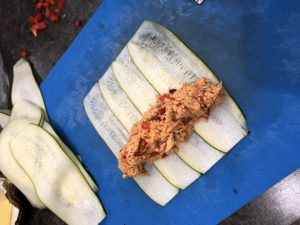 Chicken Zucchini Enchiladas
Print
Chicken Zucchini Enchiladas
---
Author:

Yield:

4-6 servings
Description
These chicken zucchini enchiladas are a great option for those eating low carb or grain free. 
---
Ingredients
3 cups Shredded Chicken, cooked
2-3 Zucchini, large and thick
2 cups Red Enchilada Sauce
1 small Red Onion, small dice
1 Bell Pepper, small dice
1 tbsp Avocado Oil
1/4 cup Cilantro, chopped
---
Instructions
Preheat oven to 350 and set aside a deep baking pan with 1/4-1/2 cup enchilada sauce spread on bottom.
Heat 1 tbsp oil in a large skillet and add diced onion and bell pepper over medium heat. Saute for about 5 minutes or until vegetables soften.
Add in shredded cooked chicken along with one cup of enchilada sauce. Toss together until evenly combined and remove from heat
Using your mandolin on the thinnest setting, cut each zucchini into paper thin slices as shown below. As you cut them, keep them together so they are the same size. Layer each slice overlapping them halfway through the next one until desired enchilada size is formed. (this turned out to be 4-5 depending on size. 
Scoop a little over 1/3 cup chicken mixture longways inside the "shell". Slide a knife under the zucchini slices and create a flap over the chicken mixture and continue to carefully roll up all the way.
Add each enchilada to sauce lined baking pan packing them tightly.
Top with remaining enchilada sauce and bake for 25-30 minutes or until chicken mixture is warmed through.
Top with chopped cilantro and/or avocado.
Valerie Skinner is a Whole30 approved personal chef & recipe developer that bridges the gap between healthy eating and busy lives by providing simple healthy meals and recipes for you and your family.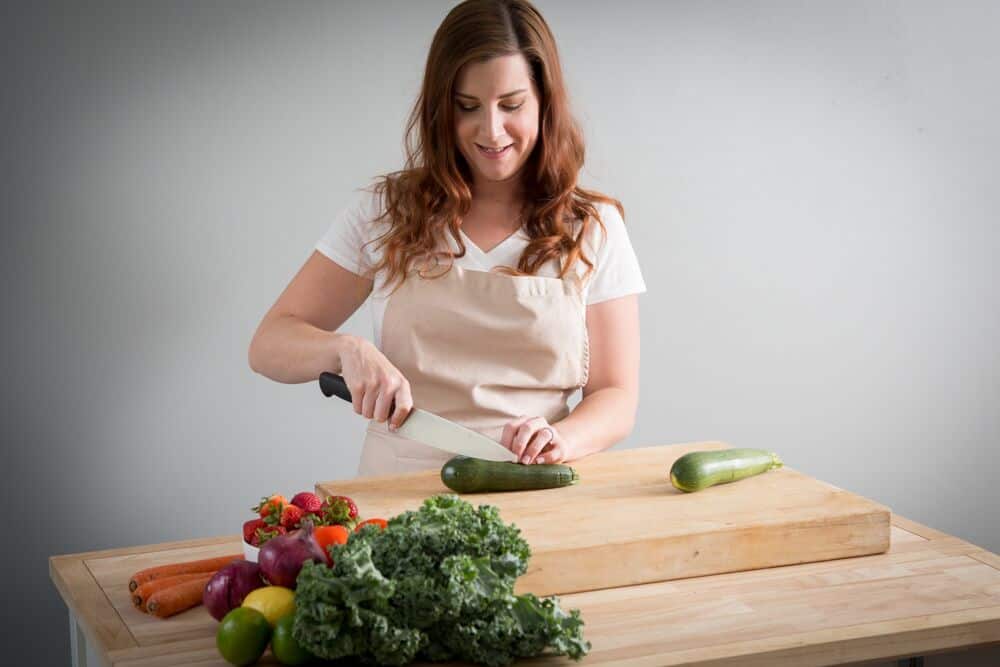 Lets Connect!
Email me: thymeandjoy@gmail.com
Join my community on Facebook
See what I'm pinning on Pinterest