This thanksgiving punch recipe has all the flavors of fall. With a few simple easy ingredients, you can make a holiday thanksgiving cocktail or mocktail that will be a crowd pleaser for kids and adults.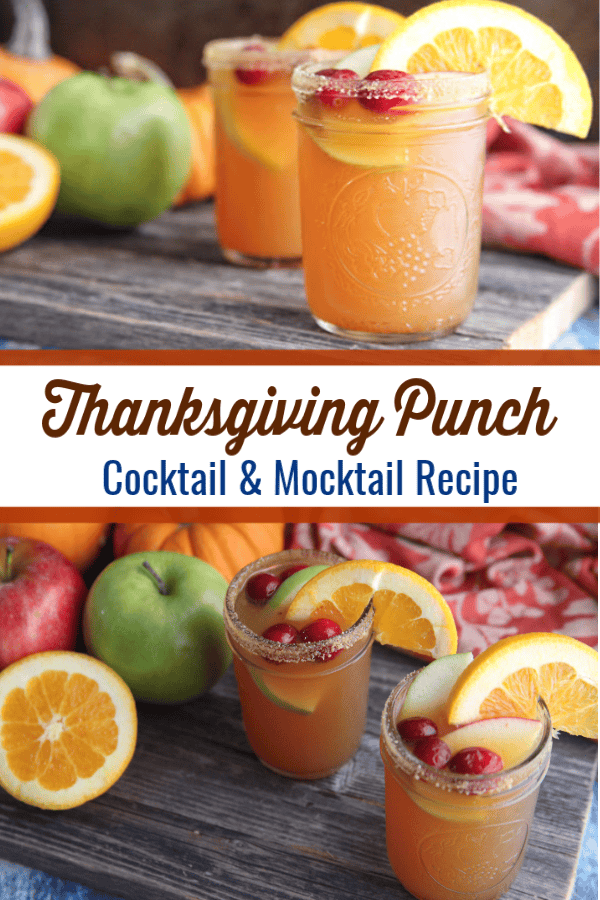 I absolutely love cooking for people, so much so that I've made it my job! As much as I love my clients, I love cooking for friends and family too. My favorite thing to do is create a gathering either for the holidays or a celebration where I can bring a bunch of friends and family together to share some great food.
Back when we lived in Hawaii, we did this more often as the military brings people together for holidays since they are so far away from home. I usually jumped up to host these gatherings.
We affectionately called these gatherings Skinner Dinners as Skinner is our last name. In fact, our very first Thanksgiving together was our very first Skinner Dinner.
Check Out:
After some time passed, I started a tradition of making some sort of signature drink to serve with everything that was themed with the season.
In the summer I serve my fruity Sangria Mocktail and I usually try something new at Christmas. I'm still thinking of fun ways to make a Halloween or Valentines day punch but am up for the challenge.
This year for Thanksgiving I have a great thanksgiving punch recipe that is my favorite one to date.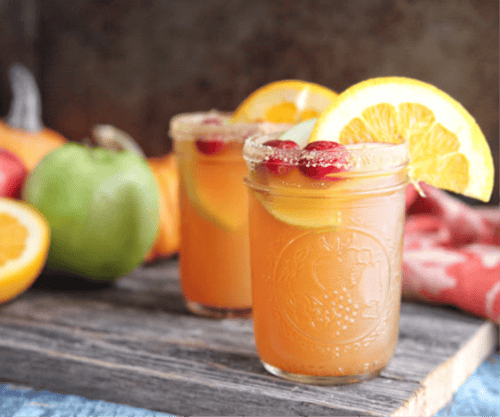 Thanksgiving is a holiday where we feast, linger connect and sometimes nap. I think it's great to have something in everyone's hand to sip on while you enjoy each others company.
A good way to make sure kids AND adults can share in the fun is by making a punch.
Check Out: FREE Thanksgiving Recipe Roundup | Mostly Paleo + Whole30
We all love the warming flavors of cider and cinnamon so I decided to enhance it with some fruits like apples and oranges and also use some frozen cranberries to round out the deal.
I add a dash of pumpkin spice and some cinnamon sticks to REALLY kick in that fall flavor.
Adding ginger ale to this recipe gives it a great fizzy kick. I use Zevia ginger ale for this recipe. Zevia is a soda that is made with the natural sweetener Stevia that has been popularized over the years.
I like using this because the cider is already super sweet on it's own with natural sugars so having more actual sugar from ginger ale wasn't something I felt was needed in this recipe.
Pro Tips + Tricks
Be sure to buy apple cider that doesn't have any added sugar in it. The juice itself is sweet enough!
Feel free to add other fruits to the mix like pears or plums.
The ginger flavor totally makes this punch but feel free to use regular ginger ale or even ginger beer.
To make this punch a cocktail, use your favorite champagne or sparkling wine.
This punch is best after sitting in the fridge for about 2-3 hours before serving. This gives enough time for all the flavors to marry together.
Make sure you whisk in the pumpkin pie spice with a small amount of cider first. This will make sure the spice separates so that nobody gets a big clump of pumpkin pie spice in their drink.
Kids love the non-alcoholic versions just as much as the adults. You can keep this a mocktail for the kids or non-drinking adults and have a bottle of champagne sitting on ice so that your guests can make their cocktails whatever strength they'd like.
My husbands pro tip: add a shot or 2 of Jack Daniels Honey Whisky to your glass
Thanksgiving Punch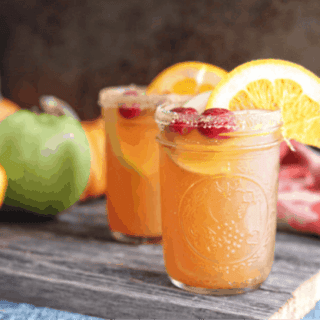 Thanksgiving Punch Recipe
Yield: 20 (1 cup servings)

Prep Time: 5 minutes

Cook Time: 5 minutes

Total Time: 10 minutes

This thanksgiving punch recipe has all the flavors of fall. With a few simple easy ingredients, you can make a holiday thanksgiving cocktail or mocktail that will be a crowd pleaser for kids and adults. 
Ingredients
MOCKTAIL OPTION
1 Gallon Apple Cider
48 oz Ginger Ale (I used 4 cans of  Zevia Ginger Ale)
1 Red Apple, sliced thin
1 Green Apple, sliced thin
1 Navel Orange, sliced thin
1 cup Frozen Cranberries
1 tbsp Pumpkin Pie Spice
Instructions
In a 2 gallon drink jar, add 2 cups apple cider.
Whisk in pumpkin pie spice until any clumps are gone.
Add the remaining ingredients to the jar and stir gently.
Refrigerate for at least 3-4 hours before serving cold.
Will keep for 3-4 days in fridge in airtight container.
Nutrition Information:
Serving Size: 1 cup
Amount Per Serving: Calories: 117Total Fat: 0gCarbohydrates: 30gSugar: 29gProtein: 0g



Valerie Skinner is a Whole30 approved personal chef & recipe developer that bridges the gap between healthy eating and busy lives by providing simple healthy meals and recipes for you and your family.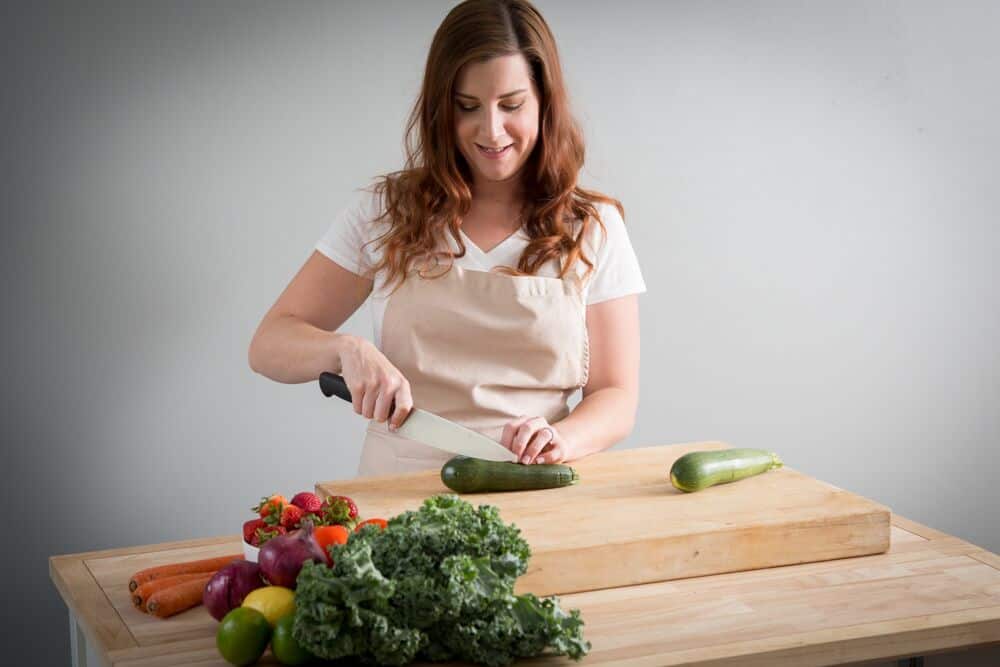 Lets Connect!
Email me: thymeandjoy@gmail.com
Join my community on Facebook
See what I'm pinning on Pinterest